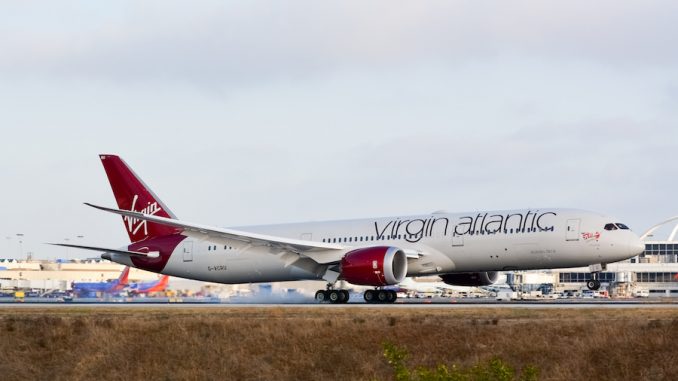 Virgin Atlantic has confirmed that they will be increasing their London-Heathrow to Los Angeles flights to three per day. This move comes as Virgin Atlantic and their codeshare partner, Delta, plan to increase the quality of their service across the Atlantic.
Erik Varwijk, Executive Vice President at Virgin Atlantic, said: "We have been flying between LA and London for over 25 years and this additional service will offer our customers, even more, choice in flight and connection times between these two fast-paced cities."
The airline's current schedule offers two daily flights to Los Angeles departing from Heathrow at 10:10am and 3:25pm and departing the U.S. city at 3:45pm and 8:55pm. The additional flight sees an early afternoon departure of 1:00pm arriving into LA at 4:10pm. The return flight would then depart Los Angeles at 6:30pm arriving back into Heathrow airport 12:55 pm the next day. The daily flights will be operated by Virgin Atlantic's Boeing 787-9 Dreamliner, which Virgin has said will give their customers the most optimal Virgin Atlantic experience, with onboard WiFi and power sockets at every seat.
Varwijk continued by saying, "Together with the increased connectivity as part of our joint venture with Delta, we're able to offer our customers the best possible experience when flying between London and Los Angeles."
Flights will commence in May 2017 with the two carriers now based at LAX's Terminal 2. This move has not come as a surprise, as earlier this year Delta moved to Terminal 3 at Heathrow Airport to align with Virgin Atlantic.
Tomos has had a keen interest in aviation for over 10 years and 4 years ago he decided to take it to the next level. He currently holds a private pilot's license and is working towards his commercial license.
Latest posts by Tomos Howells (see all)