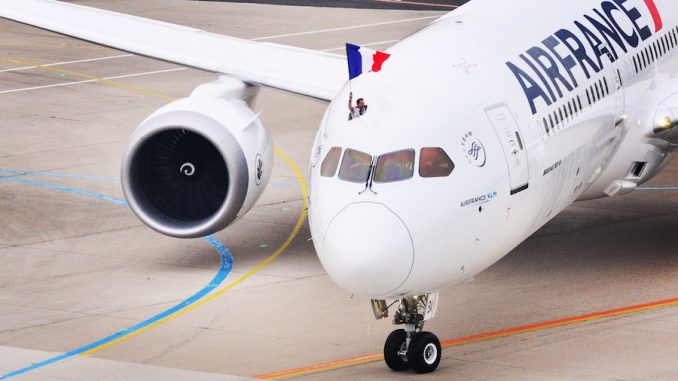 Air France decided to buy its first Boeing 787 in 2013 with its delivery and arrival taking place last Friday, featuring the traditional water canon salute at Paris Charles de Gaulle airport in Paris. The new Dreamliner arrived from Boeing's facility in Everett.
The Air France 787 will start its career with four welcome flights over France on the 7th and the 8th of January 2017. It will then begin its commercial operations from Jan. 9, 2017 between Paris (CDG) and Cairo, with tickets on sale since September 2016.
Read more: Air France Celebrates Its New Boeing 787-9 with Four Welcome Flights
The Dreamliner will also fly between Paris and London Heathrow to optimize its overall use between Cairo trips. This will serve to round off the training of the pilots and the cabin crew on the aircraft but also to make it discoverable to new customers within Europe.
In May 2017, Air France will welcome its second Dreamliner which is set to fly from Paris (CDG) to Montreal. In addition, the airline is also considering using the second aircraft between its transatlantic shifts, to fly between the two French cities of Paris-CDG and Lyon, which will be one of the shortest route in which a 787 is regularly operating at 400 km (250 miles).
Air France found these domestic rotations as a good way to both train its pilots and also to make very efficient use of the new aircraft when it is not flying to its usual destinations.
The Dreamliner Replaces Airbus' A340, Which is Leaving The Air France Fleet
For the Air France – KLM Group, the Dreamliner is a big investment as the company is planing to operate 37 of them (25 in full property and 12 on lease). The Dreamliner fleet will be made of 30 787-9s and 7 787-10s. By the end of 2019, 10 of the 787-9s will be replacing nine A340s.
Air France will fly 16 787 aircraft (13 owned and 3 on lease) while KLM, its Dutch partner, will fly 21 of them (12 owned and 9 on lease). KLM is already operating 8 of the 787-9 variant in a 3 class configuration of 30 business class seats, 48 in premium economy, and 216 in economy.
The new Air France 787-9 can carry up to 294 passengers that are divided into 3 cabins: Affaires (Business) with 30 seats, 21 premium economy seats, and 225 seats in economy. The Air France 787 is designed with their new cabin on long-haul flights called "Best and Beyond." Onboard WiFi is proposed with a price range from 5 to 30 euros for 20MB to 200MB use.
Introduced by Air France in 2009, the Premium Economy cabin has joined the carrier's aircraft on long-haul routes with the new Dreamliner offering an opportunity for Air France to rejuvenate the cabin.
The French company has decided to keep what makes this cabin mainly different from economy: a shell seat. Its recline is 130 degrees and it offers one of the largest widths in the sky at 51 cm (20 inches). The length between two seats is 102 cm (40 inches).
Air France and KLM Will Be Working On The 787 Together
Inside Air France – KLM group, the Dreamliner was one of the first projects managed by the two companies simultaneously.
As KLM received its first 787 a year in advance to Air France; the Air France pilots have been training on the KLM flight simulator in the Netherlands. All Air France pilots are eligible to apply for training to fly the 787, but the pilots who already fly the 777s has been trained in advance with Boeing in Seattle.
Watch the Air France pilot training program for the 787 here:
The 787-9 Dreamliner has a wingspan of 60.10 meters (197 feets) and a length of 62.10 meters (203 feet). It cruises at a speed of 920 km per hour (571 miles per hour) with a range of 15,100 km (9,400 miles).
The 787 is less fuel-consuming by 20% compared to the Airbus A340 and its CO2 emissions are also 20% less.
As a major player in the aeronautical maintenance market, Air France Industries KLM Engineering & Maintenance (AFI KLM E&M) provides maintenance support for the Air France-KLM Group's Boeing 787 fleet.
For the 787 maintenance, AFI KLM E&M has developed a maintenance capability for the GEnx-1B powerplant, making it the first MRO present in this market, excluding the engine manufacturer. An initial customer has already signed up to work with AFI KLM E&M being Xiamen Airlines in China. AFI KLM E&M has extensive experience in Boeing 787 maintenance and since 2012 has carried out the 787 component support for twelve customer airlines.
AirlineGeeks.com began in February, 2013 as a one-man (er… teenager, rather) show. Since then, we've grown to have 20 active team members, and yes, we're still growing. Some of us are looking to work in the aviation industry as professionals when we grow older. Some of us are still trying to decide what we want to do. That's okay though, because we're all here for the same reason: we love the airlines. We're the youngest team of airline industry journalists out there.
Latest posts by AirlineGeeks.com Staff (see all)