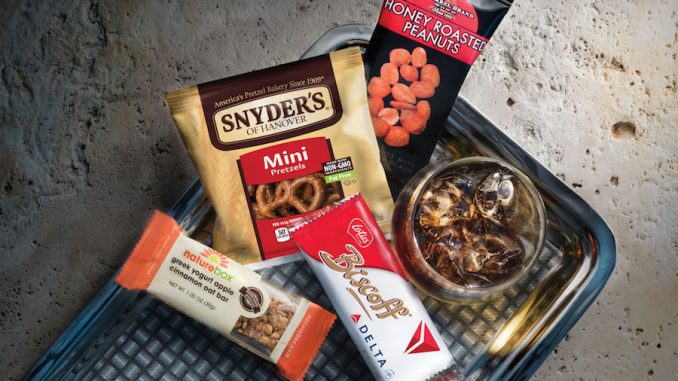 The time American Airlines saved $40,000 by cutting one olive from each first class salad has become a true legend of the U.S. airline industry. Northwest Airlines also saved $500,000 by cutting each lime into 16 pieces instead of ten. The majority of passengers would not notice these changes, so they seem rather inconsequential. However, each of these represented the larger trend of airlines cutting back on food costs by forcing passengers to pay for the extra calories.
As the industry has become more profitable overall in recent years, some airlines have begun to reverse that trend. Southwest Airlines was the outlier, always known for their signature salted peanuts. Delta has also offered a few free options in economy in recent years. American and United, on the other hand, brought back their complimentary snacks in February, with American offering Biscoff cookies and pretzels, among other packaged snacks.
On Thursday, Delta Air Lines announced they would be improving their complimentary food offerings on domestic flights beginning Dec. 14. In addition to keeping their existing Biscoff cookies, the airline will be straying from Delta branded food and will be introducing relatively well-known brands. The new snacks will include Snyder's of Hanover pretzels, Squirrel Brand Honey Roasted peanuts, and NatureBox Apple Cinnamon Yogurt Bars, available to all passengers in the airline's main cabin. In a press release, the airline said they hope to refresh offerings more often in the future based on customer response.
"The enhancement will feature larger portions and more variety for customers while supporting Delta's mission of continuing to invest in the overall on-board experience," the press release added.
Recently, the airline also revealed that they are testing complimentary meals in the Main Cabin on various transcontinental flights during a period which began Nov. 1 and will end Dec. 15. The customers who happen to be flying during the testing period had or will have the chance to try various sandwiches, wraps or other options depending on their flight time. In a separate press release, Allison Ausband, Delta's Senior Vice President of Inflight Service, said this is yet another of the airline's attempts to improve the customer experience onboard their aircraft.
"We are constantly actively listening to our customers and employees, gathering their feedback and testing new products on board to continuously improve the overall experience," Ausband said. "Testing meals on Transcon flights is part of our commitment to be thoughtful about our offerings and make decisions based on customers' needs."
The airline will continue to evaluate how customers feel about these changes, and they will formulate a plan for the future once all the results are in.
The main problem, however, could be how this affects airlines' profitability. This may prompt an impulsive company to make these changes immediately. These three airlines have all shown they can handle themselves through both ups and downs, with Delta founded in 1924 and United and American just two years later. At this point, passengers know these airlines will have to take their time to decide whether to bring back entire meals at no charge. But until then, everyone can enjoy those free pretzels and peanuts.

When he was just six months old, Parker took his first flight. From that point, he was destined to love aviation. His mom worked for Southwest Airlines much of his family have been frequent flyers on American Airlines for years, just as Parker is now. In 2015, Parker, inspired by aviation accounts on Instagram, decided to create an account of his own, and he hasn't stopped spotting since. On top of that, Parker has been writing for his school paper since his freshman year and has been writing and doing photography work for AirlineGeeks since August 2016.

Latest posts by Parker Davis (see all)