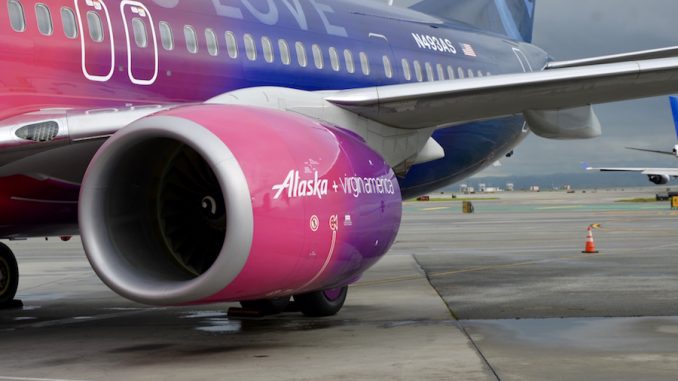 Alaska Air Group closed its acquisition of Virgin America Wednesday with an acknowledgment that the two airlines are very different and a pledge to become the west coast's premier carrier.
"There's no threat to Alaska today, but if we want to be here decades from now, we think we need to be bigger," said Alaska Air Group CEO Brad Tilden. "This was part of our idea to get bigger so we have more critical mass so we can do the things that we do for decades into the future."
To celebrate the occasion, Alaska unveiled a Boeing 737-900ER (N493AS) that was specially painted in blue, purple, and red to commemorate the merger. The aircraft, with the phrase "More to Love," arrived in San Francisco carrying more than 100 employees from Virgin America, Alaska Airlines, and its sister company Horizon Air to an airport celebration that included airline leaders, San Francisco Mayor Ed Lee, and San Francisco International Airport Director Ivar Satero.
The celebration was organized just a week after the U.S. Justice Department approved the merger between the two carriers. Alaska Air Group purchased Burlingame, Calif.-based Virgin America for $2.6 billion in April. With the acquisition, Alaska is now the fifth-largest domestic carrier.
"We think it's a good time to be an airline not a bad time," Tilden added. "I think what Alaska and Virgin will bring to the passenger will be unique, and I think a lot of people will be drawn to that."
Alaska Air Group executives say the two airlines will continue to operate separately. The expect the U.S. Department of Transportation to issue a Single Operating Certificate in January 2018, which will allow the two carriers to operate as a single airline.
On Monday, fliers will be able to book Alaska tickets on the Virgin America website and vice versa. Members of Virgin America's Elevate program and Alaska Airlines's Mileage Plan can begin earning loyalty points on each others' flights the same day.
Alaska executives offered no specifics about fleet or product changes. Alaska Airlines operates an all-Boeing 737 fleet, whereas Virgin America operates A319 and A320 aircraft.
Asked about the future of the Virgin America brand, Alaska Air executives said they had not decided on whether to keep the brand or drop it. A decision to retain the Virgin America brand would likely come with a licensing fee paid to the Virgin Group, which is owned by billionaire Richard Branson.
"As we move forward, we're going to have to make decisions and that takes careful and thoughtful research," said Alaska Airlines Chief Commercial Officer Andrew Harrison. "We've been doing that for a number of months, and we're going to do more of that."
Tim Jue covers aviation and airlines. Follow him on Twitter at @timjue.
AirlineGeeks.com began in February, 2013 as a one-man (er… teenager, rather) show. Since then, we've grown to have 20 active team members, and yes, we're still growing. Some of us are looking to work in the aviation industry as professionals when we grow older. Some of us are still trying to decide what we want to do. That's okay though, because we're all here for the same reason: we love the airlines. We're the youngest team of airline industry journalists out there.
Latest posts by AirlineGeeks.com Staff (see all)