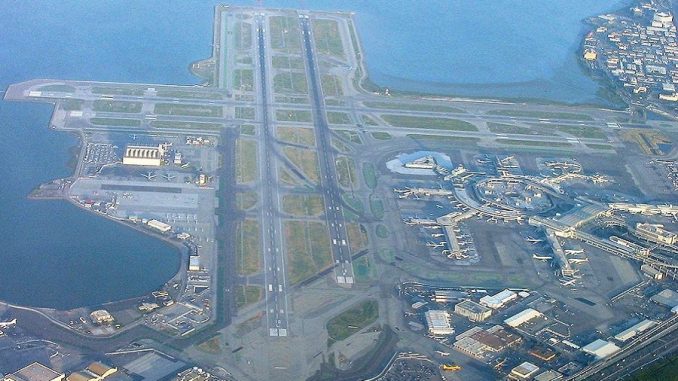 This is part one of two for the state of California.
Being the most populous state in the United States, California has a large demand for air travel. With a prime location on the West Coast along with popular destinations, the airports thrive off of high amounts of travel.
PRIMARY MAJOR AIPORTS:
Los Angeles International Airport — Los Angeles, CA
Los Angeles International Airport (LAX) is the largest airport serving the Los Angeles area and California as a whole. Having served nearly 75 million passengers in 2015, LAX ranked as the seventh busiest airport in the world and second busiest in the United States. Right behind Atlanta. Many airlines consider LAX to be a hub or a focus city. Alaska Airlines, American Airlines, Delta Airlines, United Airlines, and Virgin America all list Los Angeles as a hub while a wide variety of airlines consider it a focus city. Southwest Airlines and Air New Zealand are a very of the carriers that list LAX as a focus city. Los Angeles is considered the gateway to the Pacific Rim and this is reflected in the international carriers that make an appearance here. The list of airlines is immense at Los Angeles and that can be reflected in the tail line-up that can be seen at Tom Bradley International Terminal on any given day. Airlines such as Qantas, Emirates, Air France, British Airways, Asiana Airlines, and many more serve LAX using the Airbus A380 aircraft. In total LAX connects to 156 destinations worldwide.
The airport was opened in 1930 as Mines Field and later became a municipal airfield in 1937. The airport got its current name in 1949 adding the "International" portion. After some expansion in the 1950s the airport reached its current boundary along Sepulveda Boulevard and resulted in the tunnel that passes under runways 25L and 25R. At the time of completion in 1953, the tunnel was the first of its kind.
San Francisco International Airport — San Francisco, CA
San Francisco International Airport (SFO) is the second biggest airport in California and also the largest in Northern California. Even with two other major airport less than an hour drive away, SFO operates as the seventh busiest airport in the United States and the 21st busiest in the entire world. The location of the airport on the west coast and its proximity to the Silicon Valley, make San Francisco a major gateway to Asian and Europe. United Airlines operates their main Asian hub out of San Francisco and it runs its fifth largest hub here. United also operates its sole maintenance hub in San Francisco.  SFO is also home to a hub for Virgin America. The airport sees many airline visitors from across the world including British Airways, Japan Airlines and Emirates. The busiest international route from SFO is to London Heathrow, serving just over 1 million passengers in 2015. The busiest domestic route is to LAX serving just under 2 million passengers in the last year.
The airport is known for its fog delays in the summer due to its proximity to the San Francisco Bay. This is due to the two sets of parallel runways being in close proximity of each other. In fog, they can only use one of each pair as the runway center lines are a mere 750 feet apart. SFO is also known for its crossing runways which create some very spectacular photos during peak times. There have been expansion proposals, however land would have to be added into the San Francisco Bay for these expansions to occur.
SECONDARY MAJOR AIRPORTS:
San Diego International Airport — San Diego, CA
San Diego International Airport (SAN) is the main airport serving the San Diego area of Southern California. SAN holds the distinction of being the busiest single-runway commercial airport in the United States along with being the largest metropolitan area to not be an airline hub. Alaska Airlines comes closest to making San Diego a hub, calling it a focus city. The airport currently sees service from all major U.S. airlines along with flights to Japan, Mexico, Canada, and the United Kingdom. In total the airport fly to 57 different nonstop destinations. In 2017 two new flights to Europe will begin, adding service to Frankfurt, Germany and Zurich, Switzerland.
Expansion and relocation for the airport has been proposed many times, with very little to come of it. SAN currently sits just outside of downtown San Diego, this provides an issue for expansion as there is very little available land to use. The location also creates some amazing photographs on approach and departure from both inside and outside the aircraft. Due to it being located in a very populated area, SAN has a strict noise curfew which bans departures between 11:30 pm and 6:30 am. Many airlines have departure times listed before 6:30, however take offs are not allowed until this time.
PART TWO:
https://airlinegeeks.com/2016/12/15/state-series-california-part-two/
Jace has been working at AirlineGeeks for nearly three years. Born in Seattle, Boeing and aviation quickly took over his life and he never stopped looking up. Jace enjoys plane spotting and taking trips just so he can fly. He is currently studying at Embry-Riddle Aeronautical University while earning his Bachelors of Science in Air Traffic Management.
Latest posts by Jace Moseley (see all)