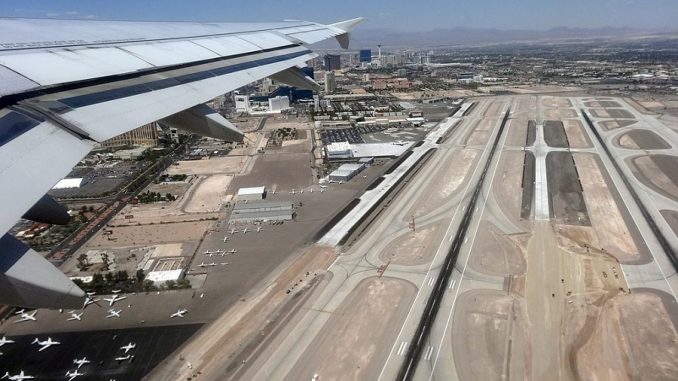 Since the creation of the first airport in 1909 by Wilbur Wright, cities and states have come together to create one of the most expansive airport systems in the world. Over the next few months, our writers have taken an in-depth look at each state to see what airports it has to offer, what its history entails, and what changes we can expect in the future that will continue to shape the airline industry.
The state of Nevada was admitted to the Union as the 36th State of the United States of America, on October 31, 1864.  While Las Vegas comes to mind as the major city with regular airline service in Nevada, several other airports exist in the state, providing necessary service to major connecting points across the country.
MAJOR AIRPORTS
McCarran International Airport (LAS) – Las Vegas
McCarran International Airport is a public airfield located in Paradise, Nevada, fives miles from downtown Las Vegas.  It is the main commercial airport in Las Vegas Valley, and deals with over 45 million passengers per year, both domestic and international. The airport covers an area of over 2800 acres at an elevation of 2181 feet, and features four concrete runways.  During the year, around 30 airlines operate routes from the airport.  It is an operating base for Allegiant Air, as well as a crew and maintenance base for Southwest Airlines and Spirit Airlines.
Originally known as Alamo Airport, it was opened as a commercial airport and renamed McCarran Airport in 1948.  The airport's new name refers to Pat McCarran, who was a Nevada senator between 1933 and 1954 and had been pivotal in establishing aviation legislation throughout the state. In line with the growth of Las Vegas and deregulation of the airline industry, the airport has been continuously expanded.  This was initially based on an expansion plan called McCarran 2000, which outlined major projects for the airport including expanded concourses to serve more flights both domestically and globally.
Throughout its existence, the airport has been responsible for many new enhancements which were considered the peak of technology at the time.  Examples of these advancements are its people mover system, Common Use Terminal Equipment (CUTE) and a free Wi-Fi system covering 1,700,000 square feet. Today the airport operates with two terminals, with Terminal 3 opening in 2012 and replacing Terminal 2.  Costing $2.4 billion, it is one of the largest public works projects in Nevada.  Further plans are in place to convert eight domestic gates to swing gates, capable of accepting both domestic and international flights.
Perhaps unsurprisingly due to the proximity to Las Vegas, but unusual for an airport, it has slot machines available for passengers.  It is one of only two airports in the world to offer this.
Reno-Tahoe International Airport (RNO) – Reno
Reno-Tahoe International Airport is a joint civil-military airport located three miles Southeast of Reno.  In the state of Nevada it is second busiest only to McCarran International Airport, and deals with nearly four million passengers.  In 2015, 3.4 million passengers arrived or departed Reno, along with 138 million pounds of air cargo. The airport covers an area of 1450 acres at an elevation of 4415 feet, and has three concrete runways. The main airlines to operate from the airport are Alaska, Allegiant, American, Delta, DHL (Cargo), Fed Ex (Cargo), JetBlue, Southwest, United, UPS (Cargo) and Volaris.
In recent years, there have been discussions regarding increasing international routes, from the sole flight to Mexico, to also include transatlantic destinations.  In 2014, Thomas Cook announced a route from London Gatwick but, even after selling tickets, had to cancel this route in 2015 before a flight was flown, due to issues with unsuitable border control at the airport.
The airport was originally built in 1929 by Boeing, and named Hubbard Field after Eddie Hubbard, the VP and Operations Manager of Boeing Air Transport.  United Airlines bought the airport in 1936 and ran it until it was purchased by the city of Reno in 1953.  Having been known as Cannon International Airport, it was renamed as Reno-Tahoe International Airport to reference the city and the major local tourist destination, Lake Tahoe.
Reno Air, a former airline, used the airport as a base, operating domestic flights mainly with the MD-80 family of aircraft, from 1992.  When they were purchased by American Airlines in 1999, the operation was then folded in 2001 and Reno-Tahoe Airport was no longer used as a hub. The Reno National Guard Base is also located at the airport, where the 152nd Airlift Wing operate, mainly with C-130 Hercules aircraft.
MINOR AIRPORTS
Elko Regional Airport (EKO) – Elko
Elko Regional Airport is a public airfield located one mile from the Elko business district.  The airport covers approximately 700 acres at an elevation of 5140 ft, and has two asphalt runways in an open-v layout. The majority of flights from Elko Regional Airport are general aviation, making up around 75% of the total traffic.  The remaining percentage is usually commercial flights on a Delta Air Lines route, operated by regional partner SkyWest, to Salt Lake City.  In 2013, there were 83 aircraft based at the airport.
The airport has existed since the early days of aviation, and was created in March 1919 at the request of the U.S Post Office.  It is noted as being a terminus for the first scheduled U.S. air mail route, in 1926.
From a very young age, Thomas has been passionate about everything related to aviation.Beginning with air show attendance and flight simulation, this evolved into a desire to adopt a profession in the industry.After achieving a degree in Air Transport Operations and Management, Thomas worked for easyJet, in an operational safety role, before changing to a ground operations role at Swissport.With aviation filling both his time of work and of play, his mind is never far from the subject.
Latest posts by Thomas Gilpin (see all)