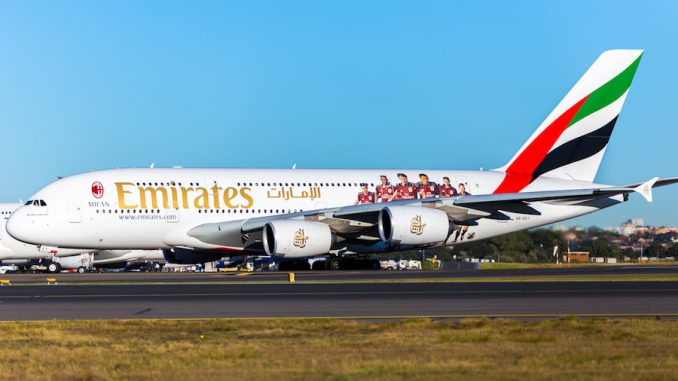 On the heels of its latest route announcement to Croatia, Emirates has outlined its intention to upgrade the aircraft to an Airbus A380 on the airline's Sao Paulo route.
Currently served by a Boeing 777-300ER, the larger aircraft will offer numerous features when it takes flight to the Brazillian city on March 26, particularly for first class passengers, including an onboard shower, bar, and more seats to choose from. When the aircraft is deployed, it will be the first A380 to have regular commercial service to South America. With the A380 being the backbone of Emirates' fleet, the airline hopes that it can continue to offer this expanded capacity service.
"The switch to the A380 offers a total of 959 additional seats per week in each direction meeting a growing demand from travellers on the route and demonstrating our commitment to Brazil and to the South American region," said Hubert Frach, Emirates Divisional Senior Vice-President, Commercial Operations, West.
The announcement could not have come at a better time for Brazil, as the country continues to face economic woes. Most recently, nearby gulf competitor, Etihad, announced it was abandoning its service to Sao Paulo due to the economic situation as well as currency fluctuations. Emirates will continue to compete on this route with Qatar Airways, which also offers daily service to Sao Paulo via its hub in Doha, Qatar.
The airline started service to Sao Paulo in October 2007, making history by being the first carrier to connect the Middle East and South America.
Beginning on March 26,  EK261 will become an A380 flight, leaving Dubai (DXB) at 08:35 and arriving in Sao Paulo (GRU) at 16:30. The return flight, EK262, departs Sao Paulo (GRU) at 01:25 and lands in Dubai (DXB) at 22:55. Both flights will operate on a daily basis.

Joe joined AirlineGeeks in 2014, and in his current role as Editor-in-Chief manages a growing team of writers both in North America and Europe. He enjoys spending the bulk of his time researching, learning and analyzing the latest trends in the airline industry, all while mentoring new members of the AirlineGeeks team who seek to do the same. Areas of research include revenue management, codeshare and alliance partnerships and airline financial results.

Latest posts by Joe Pesek (see all)