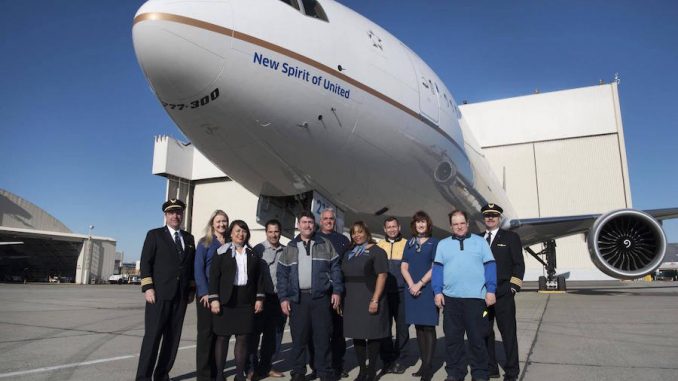 United's first Boeing 777-300ER was delivered earlier this month and has been preparing for its first revenue flight which is scheduled from Newark to San Fransisco on Feb. 16.
Unlike older aircraft, this one will be the first in the fleet to feature United's brand new Polaris business class seats. These new seats are designed to streamline the passenger experience with increased comfort. Along with the actual hard product, the seats also feature Saks Fifth Avenue amenities and more dining options.  The economy cabin will also see an extra seat with their new 3-4-3 configuration.
The aircraft (N2331U – Ship 2131) has received the name "New Spirit of United," showcasing a new era for the airline, where they plan to focus on passion, service, and innovation. In a message from United, company leadership added that the aircraft's name represents a commitment to the future and the commencement of an exciting new chapter for the company.
Oscar Munoz, United's CEO, also said, "This aircraft symbolizes the new spirit, the energy and enthusiasm that I have seen in our employees who take great pride in the work they are doing to take care of our customers and one another."
Ahead of the inaugural flight next month, United has already taken delivery of two Boeing 777-300ERs. The carrier is slated to take delivery of 14 extended 777s in 2017.
Currently, N2331U is at the airline's hub in Houston after flying from San Francisco on Saturday evening. The other 777-300ER remains in San Francisco after being delivered on Dec. 30. The new aircraft are not only preparing for the domestic inaugural in February but also for the international introduction to Hong Kong in March.

Mateen has been interested in aviation from a very young age. He got his first model airplane at six and has been airplane spotting since he was nine years old. He has always had a passion for aviation and loves learning about different aspects within the industry. In addition to writing for AirlineGeeks, Mateen is also an editor for his high school's newspaper. You can also find him on Instagram (@Plane.Photos) where he enjoys sharing his aviation photography with thousands of people everyday.

Latest posts by Mateen Kontoravdis (see all)