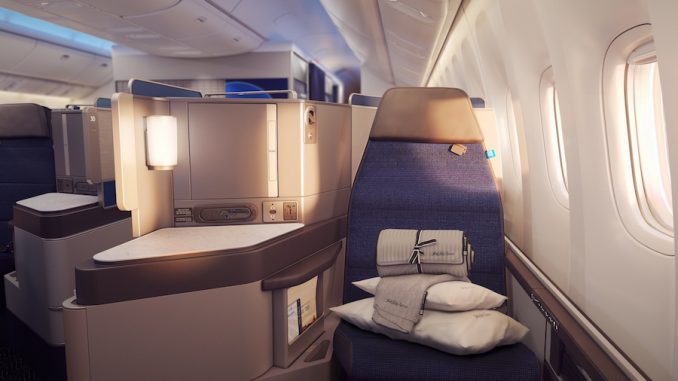 In June, United's CEO Oscar Munoz officially launched their new business class product called Polaris. The completely redesigned product aims to give passengers a consistent product from airport to aircraft.
Designed in partnership with Acumen Design Associates and PriestmanGoode and manufactured by Zodiac Seats in the UK, each United Polaris seat will offer direct aisle access, a 180-degree flat-bed recline, and up to 6 foot 6 inches of bed space. Polaris also features a gel-cooled pillow and numerous high-quality amenities that increase customer satisfaction on routes highly frequented by business travelers. In addition, the new product also features an inflight walk-up snack bar.
Polaris isn't just an inflight product, but also extends into the airport with an exclusive lounge. On December 1st, 2016, United will unveil the first lounge at Chicago O'hare, and will later launch more at hubs such as Newark, Washington-Dulles, Los Angeles, Houston, San Francisco, and Tokyo Narita, to name a few. These lounges will feature dining, drinks, day beds, showers, and various other amenities.
United plans to officially introduce the product in December on their new Boeing 777-300ER, followed by the 787-10 and A350-1000. Later, the airline plans to add the product on the 767-300 and 777-200.
In addition to full aisle access and an extended lie flat bed, the seats are easily reclinable with the movement of a dial. The seats also feature a marble side table for drinks and other items. Lastly, they are also equipped with full power outlets, a do not disturb sign, and a tablet equipped tray table.
Watch the video:
Ryan founded AirlineGeeks.com back in February 2013 (actually, it was called Aviation Official, but we've changed a bit since then). From being on the yoke of a Piper Navajo, to visiting about Delta's operations center in Atlanta, Ryan has done it all. in 2016, along with American Airlines, Ryan masterminded AAviationDay at more than 10 locations around the world. The smell of jet fumes in the morning along with the countless number of passionate airline employees keep him enthralled in the industry, always seeking more. You can find him helping out travelers at Reagan National Airport near Washington, D.C. when he's not doing something for AirlineGeeks.
Latest posts by Ryan Ewing (see all)