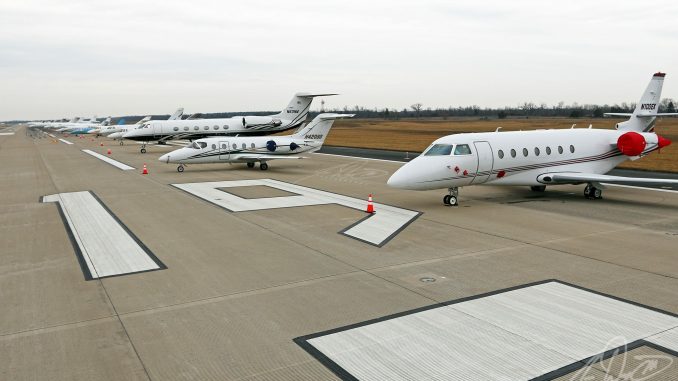 The Nation's Capital tends to be a popular destination for business, diplomatic, and leisure travelers alike, who fly through the region's three main airports: Washington-Dulles, Reagan National, and BWI Marshall. While commercial flights are obviously a key aspect in the region, business and privately-owned aircraft also play an important role, especially once every four years during the presidential inaugurations.
Washington-Dulles, located approximately 26 miles from the city, generally sees the highest amounts of business traffic during this time, while Reagan National takes the majority of commercial traffic.
Due to the DCA Access Standard Security Program (DASSP) along with higher landing fees, only a select number of business and private jets operate into Reagan National during the inauguration, with just enough to fill the Signature FBO ramp on the southwest side of the airfield. With these factors, most jet owners and diplomatic officials choose Washington-Dulles which generally has cheaper landing and parking fees but higher traffic rates.
For each inauguration during the last two decades, Dulles makes the decision to close one of their four runways to accommodate the large number of private aircraft. This year, airport officials closed runway 01L/19R.
The sheer number of aircraft parked on the 9,400 ft runway is a site to behold; 100+ aircraft were parked on the runway with 200+ on the nearby taxiway, run-ups, and ramps. During inauguration week, the airport saw roughly 300+ private aircraft in total from places as far as South Africa.
Almost every private aircraft type could be seen at the airport, including an Airbus A340, a BBJ, and a 727.
AirlineGeeks photo contributor, James Dingell, was able to capture the private aircraft in town for the inauguration at Dulles. See the images below:
*All photos taken and provided by James Dingell Photography 
Ryan founded AirlineGeeks.com back in February 2013 (actually, it was called Aviation Official, but we've changed a bit since then). From being on the yoke of a Piper Navajo, to visiting about Delta's operations center in Atlanta, Ryan has done it all. in 2016, along with American Airlines, Ryan masterminded AAviationDay at more than 10 locations around the world. The smell of jet fumes in the morning along with the countless number of passionate airline employees keep him enthralled in the industry, always seeking more. You can find him helping out travelers at Reagan National Airport near Washington, D.C. when he's not doing something for AirlineGeeks.
Latest posts by Ryan Ewing (see all)