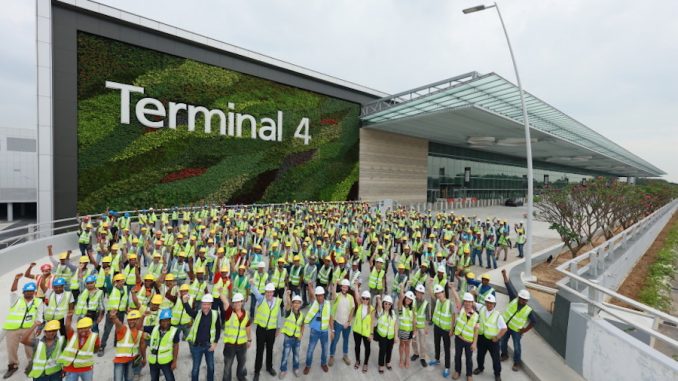 After reaching an all-time high of 58.7 million passenger movements in 2016, Singapore's Changi Airport has its sights set even higher for 2017 with the introduction of a new terminal. Simply labeled as "Terminal 4," this new area will allow for an additional capacity of 16 million passengers, funneled through a large terminal made for 14 narrow-body aircraft stands and three wide-body aircraft stands.
A Brief History
Since its humble beginnings in 1981, Changi Airport has always had no choice but to have an expansion mindset. This is due to the Republic of Singapore being less than 300 square miles in size, leaving little room for other airports to inhabit the island in the instance of growth. While the city-state was initially founded in 1819 as a trading post for the East India Trading Company, it wouldn't become independent until 1965. Singapore quickly became a dominant player in international commerce thanks to its pro-business atmosphere and highly educated population, driving further business and growth toward the airport.
With a philosophy of building for expected demand in the future, Changi received its second terminal only 9 years later in 1990. Less than a decade later in 1999, official work began on Terminal 3, with the goal of having enough capacity for 64 million passengers. The terminal opened on New Year's Day in 2007, and also came with the added bonus of an attached Crowne Plaza hotel.
A Mindset for Expansion
During this same time, Changi Airport took an interesting look at its overall strategy. Noticing a recent trend in growing low-cost carriers across Asia, it decided to build a terminal catered toward this specific audience.
Labeled as simply the "Budget Terminal," this simple terminal space lacked many of the features common at many airports. This included a lack of jetbridges, basic seating, no transfer desk and other features that many airports had.
However, this also helped the airport provide lower landing fees for airlines, resulting in a win-win in some cases for both the airlines and budget conscious travelers. This terminal marked a stark contrast from the movie theater and butterfly garden featured throughout the other portions of the airport.
In 2011 the airport announced that with the need for space for more passengers and aircraft, the Budget Terminal would be demolished in favor of a more modern terminal that could handle 16 million passengers. With the exterior of the airport completed in December of 2016, officials expect the inside of the brand new terminal to be ready for passengers in the second half of 2017.
Today marks the completion of the construction phase of Terminal 4. Kudos to our hardworking workers & partners who have made T4 a reality! pic.twitter.com/3stSxUd8Ab

— Changi Airport (@ChangiAirport) December 16, 2016
A Strong Future Awaits
While Singapore as a city-state continues to see economic growth, the airport also is seeing opportunity from airlines wanting to grow service to the airport. Hometown airline, Singapore Airlines, expects to see further growth with direct flights to the United States with the unveiling of the Airbus A350ULR, or ultra-long range.
The airline's low-cost arm, Scoot, is being merged with the airline's other low-cost arm, Tiger Airways, to grow more affordable routes from the airport. Finally, with being in a strong position in Southeast Asia as a highly education population with tourism opportunities, Changi Airport has the potential to continue being a major global airport for years to come. 

Joe joined AirlineGeeks in 2014, and in his current role as Editor-in-Chief manages a growing team of writers both in North America and Europe. He enjoys spending the bulk of his time researching, learning and analyzing the latest trends in the airline industry, all while mentoring new members of the AirlineGeeks team who seek to do the same. Areas of research include revenue management, codeshare and alliance partnerships and airline financial results.

Latest posts by Joe Pesek (see all)