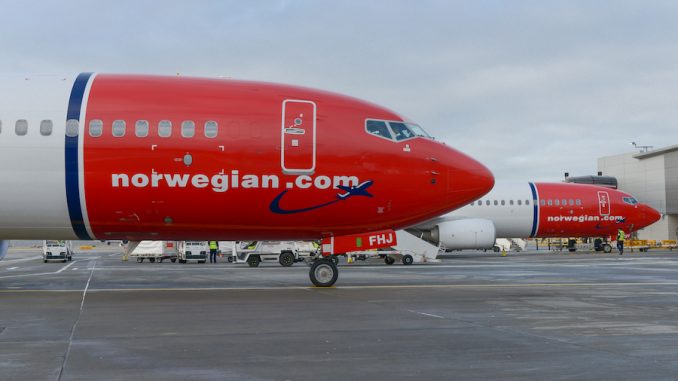 Europe's largest low-cost carrier Norwegian has reported sizable growth in February. This comes after they reported large growth in 2016. 
In a statement, the airline reported a total of 2,090,343 passengers in February alone, which has given them a passenger increase of 218,947 from the same period in February 2016. Norwegian's growth has primarily come from the 53 percent increase in intercontinental traffic.
In February 2016, Norwegian saw a load factor of 85.6 percent with the load factor for February 2017 showing 86.3 percent, which gives them a 0.7 percent increase in load factor since the same time last year.
This is likely due to the increase in travelers from Scotland where they have seen changes in overall passenger numbers. These numbers are in accordance with the addition to the carrier's new transatlantic routes from Scotland and Dublin, which were both announced earlier this year.
Norwegian CEO Bjorn Kjos said, "We are very pleased to see that more passengers chose to fly Norwegian in February. The growth is primarily driven by our intercontinental traffic, which is become increasing important in the company's global expansion."
This growth is welcome news for Norwegian, who are currently undergoing a fleet renewal which is now moving at full force throughout 2017 with the company aiming to make the average age of their fleet 3.6 years. 
The airline has deliveries for new aircraft that are due to arrive throughout the year with the company already taking delivery of three new Boeing 737-800s in February alone, with nine Boeing 787-9 Dreamliners, six Boeing 737 MAX aircraft, and 17 Boeing 737-800s.
Norwegian is expected to become the launch customer for Boeing's new 737 MAX 8 aircraft, overtaking Dallas-based Southwest. The carrier expects to take delivery of the newest 737 variant in May.
Not only will this make Norwegian's fleet one of the youngest in the world, but also one of the greenest and most modern.
All in all, it would appear that there is no end in site for Norwegian's substantial international growth, with a record 2016 and continuing that trend by growing at the start of 2017. 
Tomos has had a keen interest in aviation for over 10 years and 4 years ago he decided to take it to the next level. He currently holds a private pilot's license and is working towards his commercial license.
Latest posts by Tomos Howells (see all)