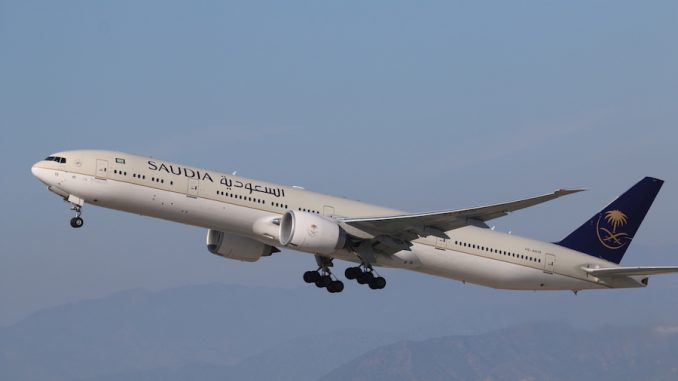 On Tuesday, both the U.S. and U.K. announced changes to security procedures regarding electronic devices in the cabin of flights originating from certain countries. This is expected to affect numerous passengers.
Here's what travelers need to know:
The US Ban
The U.S. Government has announced that airlines flying non-stop to the United States from certain airports will not allow passengers to carry certain electronic items onboard as carry-ons.
The announcement includes foreign airlines flying to the U.S. from 10 international airports in Egypt, Jordan, Kuwait, Morocco, Qatar, Saudi Arabia (2), Turkey, and the United Arab Emirates (2).
Airlines will have until Saturday, March 25 at 0700 GMT to enforce the ban. Cell phones and electronic medical equipment will be exempt but laptops, electronic games, tablets, cameras, and other large electronic devices will only be allowed onboard as checked luggage in the aircraft's hold.
Airlines affected by the announcement include Egyptair from Cairo, Emirates from Dubai, Etihad from Abu Dhabi, Kuwait Airways from Kuwait, Qatar Airways from Doha, Royal Air Maroc from Casablanca, Royal Jordanian from Amman, Saudia from Jeddah and Riyadh, and Turkish Airlines from Istanbul.
Overall, the U.S. ban is expected to affect approximately 50 flights per day, according to CNNMoney.
Let us entertain you. pic.twitter.com/FKqayqUdQ7

— Emirates airline (@emirates) March 21, 2017
Reports suggest that the ban resulted from U.S  intelligence discovering a possible terrorist threat that hasn't been publicly specified.
The ban will be enforced under the law code 49 CFR 1542.303 stating the "TSA (Transportation Security Administration) may issue an Information Circular to notify airport operators of security concerns. When TSA determines that additional security measures are necessary to respond to a threat assessment or to a specific threat against civil aviation, TSA issues a Security Directive setting forth mandatory measures."
Because of this, foreign airlines flying into the United States will be forced to comply or they could face disciplinary actions.
Royal Jordanian Airlines reacted earlier this week via twitter, but then deleted their tweet replacing it with "Further updates will be announced soon regarding #electronicsban."
The UK Ban
The UK ban was outlined by government officials shortly after the US ban was officially announced. The ban affects direct flights to the UK from Turkey, Egypt, Jordan, Saudi Arabia, Tunisia, and Lebanon.
The UK ban also affects more airlines, including flag carrier British Airways as well as Easyjet, Jet2, Thomson, Thomas Cook, Monarch, Turkish Airways, Pegasus Airlines, Atlas-Global Airlines, Middle East Airlines, Egyptair, Tunisair, Royal Jordanian, and Saudia Airlines.
Attention all passengers ⚠️ pic.twitter.com/HCNDcjcdi1

— Royal Jordanian (@RoyalJordanian) March 21, 2017
Like counterparts in the United States, UK officials do not cite a specific threat but a need for an increase in security.
Unlike the U.S., the UK government has left it up to the airlines to enforce the ban, not giving a specific date for enforcement.
Analysis 
Last year a Daallo Airlines flight from Somalia, made an emergency landing in Mogadishu after a passenger exploded a bomb believed to be hidden in a laptop. The bomb only killed the terrorist, while the aircraft, an Airbus A321 received damage to the fuselage but was able to safely land.
The ban is reportedly in place after concerns have grown on both sides of the Atlantic of a similar attack on a U.S. or UK bound aircraft.
A Metrojet aircraft bound for Russia from Egypt exploded over the Sinai Peninsula, with authorities believing the bomb was placed in an electronic device, however, this was believed to be stored in the hold.
Parents have also been critical of the ban on social media, with many using tablets to entertain their children on long haul flights. Concerns have also been raised about the increase in theft of these high-value devices in checked luggage.
The ban was made in the name of safety according to officials in both the UK and the U.S. They also understand it will be difficult for travelers to adjust but they say it's necessary to keep commercial travel safe.
AirlineGeeks.com began in February, 2013 as a one-man (er… teenager, rather) show. Since then, we've grown to have 20 active team members, and yes, we're still growing. Some of us are looking to work in the aviation industry as professionals when we grow older. Some of us are still trying to decide what we want to do. That's okay though, because we're all here for the same reason: we love the airlines. We're the youngest team of airline industry journalists out there.
Latest posts by AirlineGeeks.com Staff (see all)