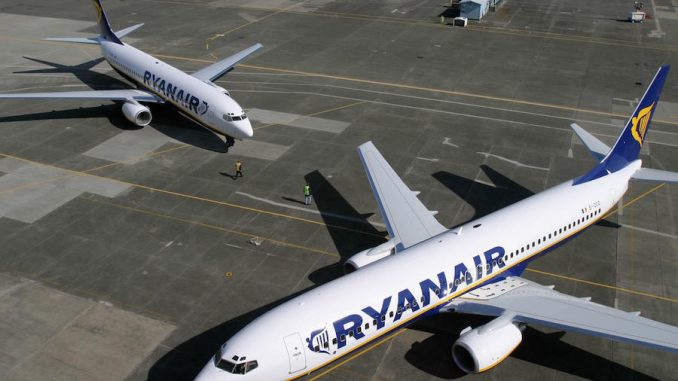 Ryanair has threatened to end five of its routes to the United Kingdom for a limited amount of time if a bilateral Brexit deal does not get solved, according to a report by The Guardian.
The low-cost carrier could cancel flights from London Stansted in addition to other UK airports.
Ryanair's Chief Financial Officer Neil Sorahan said, "In the worst-case scenario there will be no flights in or out of the UK to Europe for a period, for all carriers. There could be a situation where you're going to have get comfortable with staycations for the summer of 2019: those trips down to Portugal and Spain, unless you can swim, aren't really going to happen."
Ryanair is part of a European "open skies" pact. Under this pact, European airlines, and other nearby carriers, can fly to Europe legally.
"If there was a cliff-edge scenario with World Trade Organization rules and no bilateral on open skies in place, there is a distinct possibility that there will be no flights for a period of time between Europe and the UK. The impact on the business would be disastrous," added Sorahan.
The Dublin-based carrier operates 40 of its 400 aircraft to 19 UK airports including Glasgow, Belfast, and the previously mentioned Stansted. The airline believes that to continue serving these cities, the company will have to create a UK subsidiary with a British air operating license.
Ryanair mentioned that if it cannot continue UK service after the Brexit deal in April of 2019, the carrier will focus on Spain, Scandinavia, Germany, eastern Europe, and Italy, where it is currently a top choice for passengers.
The company will have to know how the UK will handle the Brexit matter by March of 2018 so it can begin to create schedules, a process that is created 12 months in advance.
Ryanair is not the only airline that could be affected by this deal. KLM and EasyJet are both concerned with the outcome of Brexit, however, the airlines are not taking actions such as those by Ryanair.
"The only positive, I suppose," said Sorahan. "For our customers, it that this will lead to lower fares, as we have to stimulate the market."
Matthew Garcia became interested in aviation at the age of 12 when he installed Microsoft Flight Simulator X on his computer. He was instantly "bitten by the bug" and has been in love with aviation ever since. Matthew took his first introductory flight in 2013 and began normal flight training in February of 2015. Over the years, Matthew's love and knowledge for aviation has grown tremendously, mainly due to FSX. Garcia flies highly advanced aircraft in a professional manner on a highly complex virtual air traffic network simulating real world flying. In 2016 Matthew achieved his private pilot certificate from the FAA. Now he studies journalism at the University of Nebraska at Omaha.
Latest posts by Matthew Garcia (see all)