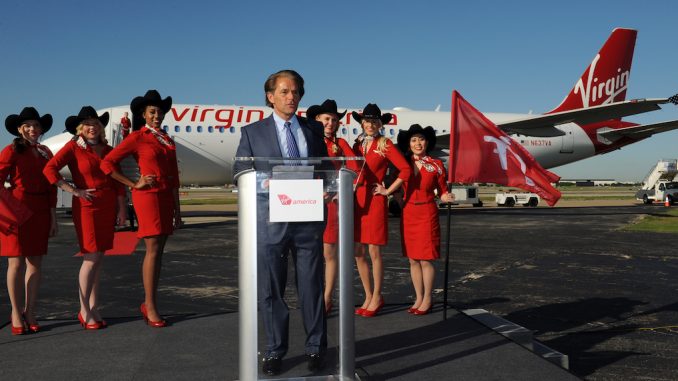 Last week, Alaska Airlines confirmed that it plans to continue the operation of flights out of Dallas Love Field after its acquisition of Virgin America last year. As a part of the purchase, Alaska inherited Virgin America's two gates at the urban airport.
Due to the Wright Amendment, Love Field is capped at 20 gate spaces, with Dallas-based Southwest Airlines operating 18 of them. Making the two gates some of the most valuable real-estate in the U.S. aviation industry. The gate spaces originally belonged to Fort Worth-based American Airlines, but were handed over to Virgin America after American merged with US Airways in 2014.
Prior to the announcement, there were doubts on whether Alaska would retain the slots at Love Field or give them up. Virgin America struggled to create an identity at the Southwest-dominated airport. Additionally, the growing presence of Spirit Airlines at the larger Dallas/Fort Worth International Airport created a continuous fare war throughout North Texas between the three low-cost carriers.
In order to create a competitive advantage, Virgin America tried different routes in and out of Dallas, settling on its current destination list of San Francisco, Los Angeles, Las Vegas, Washington-National, and New York-LaGuardia.
"We're keeping both for sure. We love Love Field," said Alaska President and Virgin America CEO Ben Minicucci.
The addition of the two gates at Love Field will add to the Seattle-based carrier's Dallas portfolio. Currently, Alaska flies four daily flights to Seattle and Portland out of Dallas/Fort Worth International.
Alaska Airlines has not decided on whether the destinations out of Love Field will change, but Minicucci said it is a possibility. The Virgin America name will be discontinued in 2019.
In an effort to increase their footprint in Texas, Alaska announced four new destinations out of Love Field.
Beginning August 2017, Alaska will commence operations from Dallas Love Field to Seattle, San Diego, Portland, and San Jose. This will increase their operations to eight destinations with 18 daily departures during the peak season.
In another change, the combined airline will be replacing most of the Airbus A320s used by Virgin America with the smaller, 76-seat Embraer 175 (operated by SkyWest).
The Embraer 175 will be used for flights to Portland, San Diego, San Jose, Seattle, New York-LaGuardia, and Washington-National. However, there will be one flight to Seattle which will be operated by a Virgin America Airbus A320.
"Optimizing the fleet and matching the right plane to the right market to is one of the key benefits of our merger with Virgin America," said John Kirby, Alaska's Vice President of Capacity Planning. "Prior to merger, Virgin America lacked a regional aircraft to take advantage of mid-sized routes. The fuel-efficient E175 jet has the same amenities and features of a mainline jet and is perfectly suited for Love Field."
Virgin America employees in Dallas are keeping their jobs. Alaska has said that there will be no change in employment status due to the route and fleet changes.
Flights to Seattle and Portland will begin August 2017. Flights to San Diego and San Jose are slated to begin February 2018.
This story was updated on April 12 at 6 p.m. EST 
An "AvGeek" for most of his life, Akhil has always been drawn to aviation. If there is an opportunity to read about an airline, fly on a new airplane, or talk to anyone about aviation, he is on it. Akhil has been on over 20 different kinds of aircraft, his favorite being the MD-80. Additionally, he has visited 5 continents and plans to knock out the remaining two (Africa and Antarctica) soon. Based in Dallas, Akhil graduated from Texas A&M University with a degree in Management Information Systems and currently works in consulting. His dream is to become an airline executive.
Latest posts by Akhil Dewan (see all)