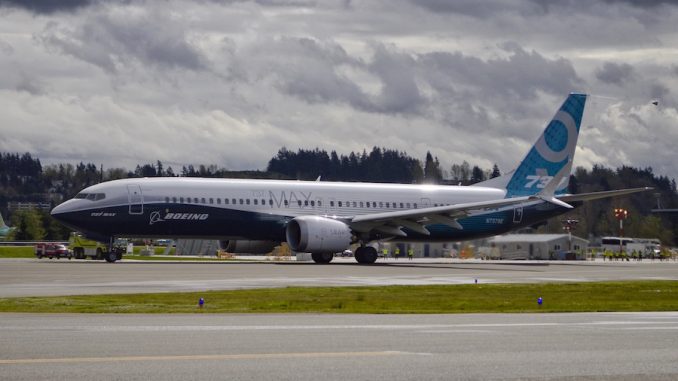 On Thursday, Boeing's new 737 MAX 9 aircraft took to the skies for its first flight. Departing Renton Municipal Airport at 10:52 a.m., the newest addition to the MAX family departed for a two hour and 42-minute test flight before landing at Boeing Field at 1:34 p.m.
Captain Christine Walsh and  Captain Ed Wilson piloted the airplane through tests on the aircraft systems, flight controls, and handling qualities, all of which resulted in a successful flight. According to Boeing, 737 MAX 9 testing should be completed by the end of this year.
"The MAX 9's first flight is another milestone that continues the program's strong track record of progress," said Kevin McAllister, Boeing Commercial Airplanes President & CEO. "The MAX family of airplanes offers more value than any competitor and its strong market acceptance is reflected in over 3,700 airplanes on order from 86 customers around the world."
The 737 MAX 9 is essentially a larger version of the 737 MAX 8, which took flight in January 2016. The new variant includes 18 additional seats and is 104 inches longer.
The aircraft can accommodate a maximum of 220 passengers and is able to travel 3,515 nautical miles making it a contender to operate select transatlantic routes.
According to Boeing, the 737 MAX 9 is the most efficient airplane flying today, with greater range and excellent economics.
The MAX program currently has 3,700 orders and 86 customers, establishing it as the fastest selling airplane in Boeing history. "The 737 MAX team continues to fire on all cylinders," said Keith Leverkuhn, Vice President and General Manager, 737 MAX program. "Each new milestone we meet builds knowledge and experience that gets leveraged to keep the program moving forward on track."
In the future, the 737 MAX 9 is set to be followed by the 737 MAX 7 and MAX 200 variants, with discussions on the development of the MAX 10 aircraft still in progress. The MAX 10 would be designed as a lighter aircraft with even longer range to best compete with Airbus' A321neo.
The 737 MAX 8 completed flight testing this year and received FAA type certification on March 8, 2017.
The first delivery, which will be the 737 MAX 8 aircraft, is set for May, several months ahead of schedule. Also, in December, the 737 MAX 7 is set to hit the assembly line.
Photo gallery:
*All photos by AirlineGeeks photographer Ryan Krautkremer
Ashley is currently a senior in high school and plans on pursuing a career in aviation or journalism. Her favorite airplanes include the Boeing 777, 737MAX, and Airbus A350. She enjoys taking flights on various airlines to different airports and planespotting at her local airports.
Latest posts by Ashley Magoon (see all)