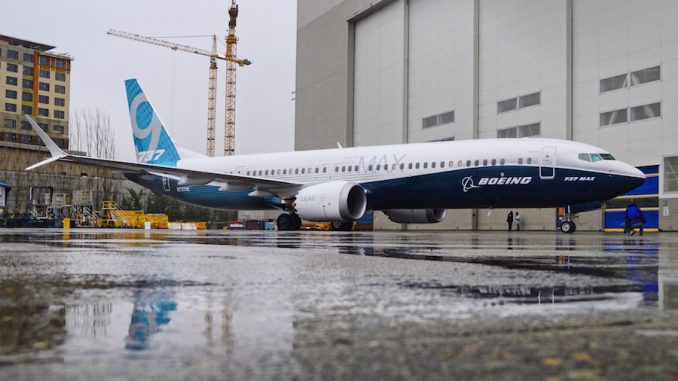 it's a rainy, 33-degree day in early March, and I am up early. I never get up early. Only two things get me out from my warm, electric blanket covered bed at 4:50 in the morning: the sweet smell of cinnamon rolls and bacon, or airplanes.
Seattleites can, and will enthusiastically tell you that our traffic is terrible, and as fun as it is to sit back and laugh at our highway system, it truly is not ideal to be in the midst of it. I gave myself an hour and ten minutes, but boy did I underestimate the commute. It took an hour and a half, and I cut it really close.
Within 45 seconds of pulling into the parking lot, I was on the bus and on the way to the north end of Boeing's manufacturing facility in Renton, Wash.
Through the pouring rain and occasional snowflake, the most alluring shape emerged. In that gorgeous Boeing house livery, the new 737 MAX 9 stood just outside of the plant. It was beautiful.
Among the other glowing features, the MAX winglets will never grow old; the size and shape are wildly different in comparison to most other winglets out there.
The heritage of the design is obvious; the iconic look of the engines are still there, the squat, flattened bottom. The look of the nose and tail stayed true as well, but there are plenty of changes as well.
New CFM LEAP-1B engines reduce the operating cost and fuel consumption from the previous 737 models and boasts up to 9 percent fuel savings on Airbus' new A320neo. Some notable differences from the 737 MAX 8 include a 13-foot difference in length, a 4,200 lb (1905 kg) max weight increase, and room for 28 more passengers.
In comparison to the A321neo, although the MAX is a tad more expensive, it beats Airbus in fuel consumption but falls behind in terms of range. The A321neo has an average range of 3,700 nautical miles (with Sharklets) while the 737 MAX 9 can fly up to 3,515 nautical miles.
In theory, both in production 737 MAX variants could effectively operate transatlantic routes with New York-JFK to London City using roughly 85 percent of the aircraft's overall range.
The smaller variant of the new narrowbody design, the 737 MAX 8, completed its first flight on Jan. 29, 2016. Since then, the aircraft has undergone multitudinous hours of flight testing and is now ready for delivery in the coming months after earning the FAA's certification on Thursday.
Norwegian Air expects to be the launch customer for the 737 MAX after overtaking Southwest.
Regardless of whatever weather Washington State decides to create, from an aviation enthusiast's perspective, being able to see the advancement of aviation with my own eyes only bolsters my love and passion for it.
If you are able, take some time to write down the registration number of an airplane that you see, and check up on it periodically – see how far it travels during the week, it gives an awesome perspective at just how hard the industry works for us, and the amazing ability we have to shrink the world with these massive, yet alluring metal creations.
Full image gallery:
*All photos by AirlineGeeks.com photographer Ryan Krautkremer 
AirlineGeeks.com began in February, 2013 as a one-man (er… teenager, rather) show. Since then, we've grown to have 20 active team members, and yes, we're still growing. Some of us are looking to work in the aviation industry as professionals when we grow older. Some of us are still trying to decide what we want to do. That's okay though, because we're all here for the same reason: we love the airlines. We're the youngest team of airline industry journalists out there.
Latest posts by AirlineGeeks.com Staff (see all)