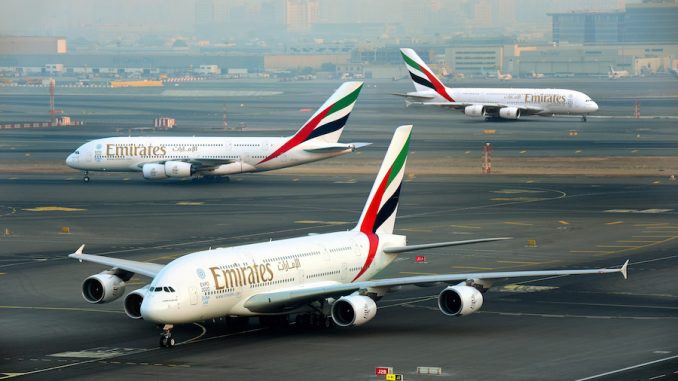 Gulf carrier Emirates Airline has responded to the recent travel disruption caused by President Trump's administration by announcing a reduction in services to the U.S. A move to combat a "weakened travel demand" and a reduction in bookings will see some weekly frequency, and in some cases, daily frequency routes be reduced over the next few months.
Starting from May 1, flights to Fort Lauderdale will operate five times per week, rather than the usual daily service. From May 23, the same depletion will occur with the weekly route to Orlando. Daily flights to Los Angeles (July 1), Seattle (June 1), and Boston (June 1) will be reduced to once-a-day flights.
In total, 25 weekly flights will be cut departing the United Arab Emirates inbound to the U.S. meaning only a total of 101 flights will operate every week between the two nations. Emirates is the only carrier with nonstop flights between Dubai and the U.S. with the routes mostly operated by Boeing 777 aircraft and Airbus A380s.
Though the Los Angeles route is being reduced to just one flight, it will continue to be operated with an Airbus A380. The remaining routes to Chicago, Dallas, Houston, New York-JFK and Newark, San Francisco, and Washington-Dulles will not be affected.
Emirates released a statement saying,  "Emirates can confirm that we will be reducing flights to five of the 12 US cities we currently serve."
"This is a commercial decision in response to weakened travel demand to US. The recent actions taken by the US government relating to the issuance of entry visas, heightened security vetting, and restrictions on electronic devices in aircraft cabins, have had a direct impact on consumer interest and demand for air travel into the US."
With the new administration having only occupied the White House for nearly 100 days, they have wasted no time on creating executive orders in hopes of helping the U.S. One of those executive orders issued a travel ban to seven countries, including Iran, Iraq, Libya, Somalia, Sudan, Syria, and Yemen.
After heavy criticism and some legal reworking, President Trump released a revised travel ban to exclude Iraq. These bans, along with other actions taken by the President, have caused the amount of traveling in and out of the United States to drop, with online booking websites reporting flight searches to the U.S. down 6 to 17 percent.
With the fear of being detained upon arrival or not being allowed back into the U.S., a handful of foreign nationals have been canceling their travel plans. Airlines, both U.S. and foreign carriers, have seen a decrease in bookings, leading to the likes of Emirates re-evaluating its route deployment.
"Until the start of 2017, Emirates' operations in the US have seen healthy growth and performance, driven by customer demand for our high quality product and our international flight connections. However, over the past 3 months, we have seen a significant deterioration in the booking profiles on all our US routes, across all travel segments. Emirates has therefore responded as any profit-oriented enterprise would, and we will redeploy capacity to serve demand on other routes on our global network," the statement continued.
"We will closely monitor the situation with the view to reinstate and grow our US flight operations as soon as viable. Emirates is committed to our US operations and will continue to serve our 12 American gateways – New York JFK, Newark, Boston, Washington DC, Chicago, Seattle, Los Angeles, San Francisco, Houston, Dallas, Fort Lauderdale, and Orlando – with 101 flight departures per week, connecting these cities to Dubai and our global network of over 150 cities."
The news, to a certain extent, will please the likes of United, Delta, and American who have repeatedly complained about the nature of which the Gulf carriers have grown over the last decade through the use of state subsidies; an accusation the Middle-eastern airlines' have denied.
The American carriers and pilot unions want the U.S. Government to review the Open Skies agreements that allow Gulf carriers to fly freely between the two regions.
Executives from Delta and United went to the White House in February to discuss the "massive subsidization Etihad Airways, Qatar Airways, and Emirates Airlines." In a letter to the Secretary of State, the airline executives said, "The Gulf carriers have received over $50 billion in documented subsidies from their government owners since 2004. If left unchecked we will continue to see the Gulf carriers expand in the U.S. market, causing further harm to hard working Americans." The Gulf airlines are rejecting these claims saying they are not receiving an unfair advantage.
The United States has also issued an electronic devices ban on anything "larger than a cellphone" on flights originating in certain Middle East and North African countries. Passengers traveling from the 10 affected airports located in Egypt, Jordan, Turkey, Morocco, Kuwait, Saudi Arabia, Qatar, and the United Arab Emirates are now required to place their large electronic devices in their checked bag.
The restriction was enforced to improve the prevention of terrorist attacks following intelligence reports on terrorist groups looking at potential laptop-style bombs. A move that was soon followed by the United Kingdom but in relation to different countries.
Over the next few months, it will be interesting to see how Emirates continues to respond to the electronics ban along with other Trump-era regulations and whether or not they will continue to expand or instead cut more flights from their U.S. destinations.
AirlineGeeks.com began in February, 2013 as a one-man (er… teenager, rather) show. Since then, we've grown to have 20 active team members, and yes, we're still growing. Some of us are looking to work in the aviation industry as professionals when we grow older. Some of us are still trying to decide what we want to do. That's okay though, because we're all here for the same reason: we love the airlines. We're the youngest team of airline industry journalists out there.
Latest posts by AirlineGeeks.com Staff (see all)