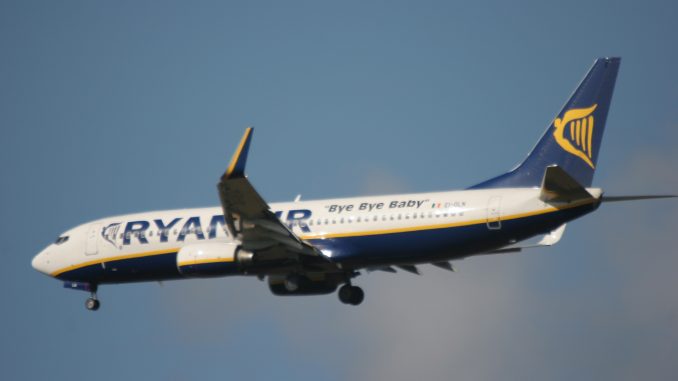 Fueled by growth in their yearly earnings, Irish low-cost carrier Ryanair has increased the lease on ten jets through 2019, as well as is requesting an additional two or three additional Boeing 737 aircraft, pending the aircraft manufacturer's approval.
The airline currently has 47 aircraft on order with Boeing, with the expectation to have them delivered by March 2018. If the agreement goes through, the new order could rise to 50 aircraft to be delivered this fiscal year.
Chief Financial Officer Neil Sorahan in a statement said: "There's a huge amount of opportunities out there across Europe as we grow and one of the limiting factors continues to be deliveries of the aircraft. We've said to Boeing, if they see gaps in their schedule and have additional aircraft, we'll take them."
The airline has been taking advantage of the woes of regional competitors and continue to move forward to reduce their reliance on a now uncertain UK market amid Brexit concerns. Ryanair will be increasing their flights in Italy, Germany, Poland and Romania after German and Italian carriers Airberlin and Alitalia are continuing to reduce their operations after sustaining steep losses.
Both Airberlin and Alitalia have been invested in heavily by Etihad Airways in Abu Dhabi, but have had little luck in their turn-around plans to reduce their high cost structure that puts them at a disadvantage to carriers like Ryanair. The new aircraft will be additions to the carrier order of 100 Boeing 737 Max 200s, which is a more fuel efficient version of the carriers workhorse 737, with deliveries expected to start in Fall 2019.
Ryanair continues to face stiff competition from UK-based low-cost carrier easyJet, as the airline announced it would too be increasing its fleet with not just addition A320s, but also with the addition of the longer range and bigger A321s, which is the largest aircraft in the Airbus A32x family.
As fears on how Brexit will affect the Open Skies agreement in Europe remain unknown, it is clear now that Ryanair is going to continue to expand their operations around Europe to help them cope with what the airline if referring to as potential "significant disruption" for flights between the UK and Europe.
In a statement made to Bloomberg on discussions of uncertainty, Ryanair officials stated "In the absence of such certainty, or direction, we will continue to pivot our growth away from the U.K. in 2017 and 2018 to capitalize on the many growth opportunities elsewhere in Europe."
Tomos has had a keen interest in aviation for over 10 years and 4 years ago he decided to take it to the next level. He currently holds a private pilot's license and is working towards his commercial license.
Latest posts by Tomos Howells (see all)