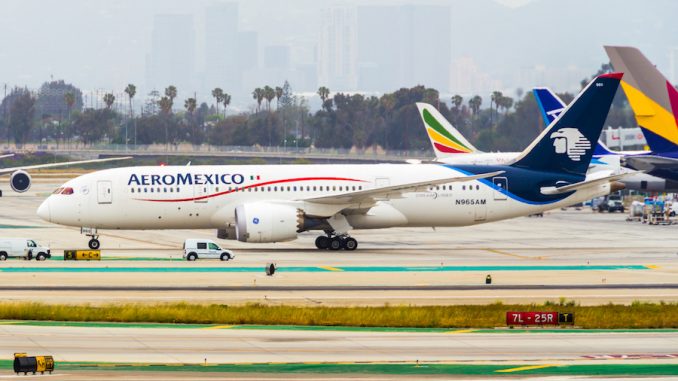 Delta Air Lines and Aeromexico recently announced that they will now work together to transport cargo between the United States and Mexico, one of the most important cargo routes in the world. The two airlines signed a joint cooperation agreement in which customers can work with either carrier to transport cargo between the two countries using an expansive network of flight and trucking options.
The two SkyTeam airlines are planning to integrate technologies in their cargo operations in order to provide a better customer experience, implement joint sales, and coordinate marketing efforts in the U.S. and Mexico. Additionally, shared warehouses belonging to Delta and Aeromexico Cargo have been set up in Mexico, Boston, New York-JFK, Miami, San Francisco and Chicago.
"By working together on the cargo side we can really provide a seamless logistics experience in the U.S. and Mexico," said Gareth Joyce, Delta's President of Cargo & Senior Vice President of Airport Customer Service. "This enables us to bring faster, more reliable and flexible solutions to our customers in the U.S., Mexico, and beyond those borders globally."
Rafael Figueroa, CEO of Aeromexico Cargo, added: "Aeromexico and Delta as partners have the largest, most comprehensive and expanding air cargo network in the U.S.-Mexico market. Now by delivering outstanding quality service and innovative commercial and logistics solutions, we will definitely bring extensive value to the industry and to our customers."
This agreement is yet another step the Atlanta-based carrier has taken to support Mexico's largest airline. This past February, Delta announced that it would be purchasing 32% of Aeromexico. Delta already had an existing stake in the airline and this purchase increased their ownership share to 49%.
Delta has participated in similar agreements with British carrier, Virgin Atlantic, and has purchased stakes in Brazilian carrier, GOL. This type of partnership is not a first in the airline industry. Other examples include the United-ANA partnership and the American, British Airways, Finnair, and Iberia joint business operation.
Currently, Delta and Aeromexico fly 22% of the capacity in the U.S.-Mexico market and transport cargo products such as turbine parts, medical equipment, and tequila.
An "AvGeek" for most of his life, Akhil has always been drawn to aviation. If there is an opportunity to read about an airline, fly on a new airplane, or talk to anyone about aviation, he is on it. Akhil has been on over 20 different kinds of aircraft, his favorite being the MD-80. Additionally, he has visited 5 continents and plans to knock out the remaining two (Africa and Antarctica) soon. Based in Dallas, Akhil graduated from Texas A&M University with a degree in Management Information Systems and currently works in consulting. His dream is to become an airline executive.
Latest posts by Akhil Dewan (see all)