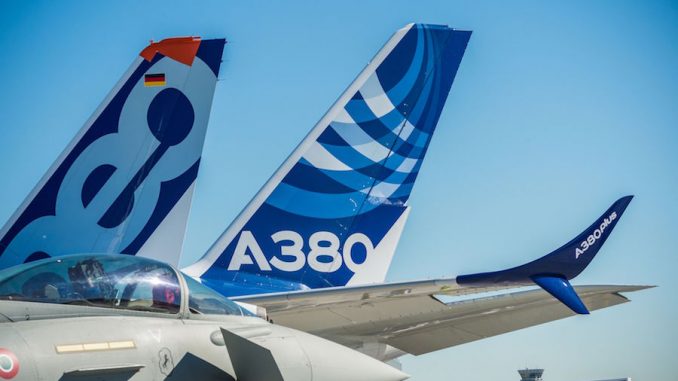 As Day 1 of this year's Paris Air Show concludes, it has been a strong start unsurprisingly for Boeing and Airbus, as they wrack up over 100 orders each. Throughout the course of the week, AirlineGeeks will break down the numbers and provide context for new orders and aircraft designs.
Airbus
Airbus started the day with only a single order. Although it was just one order, it was a significant one in many regards, to say the least. Leasing giant GECAS signed a deal for 100 Airbus A320neo aircraft, using the CFM LEAP-1X engines, bringing the total count to 220 of the aircraft type altogether. This order brings the total order count from GECAS to Airbus at a staggering 600 units.
Alec Burger, President and CEO of GECAS, said: "The A320neo aircraft is an excellent product. GECAS is pleased to make this additional commitment for A320neos to meet strong customer demand for this type. The A320neo family aircraft powered by CFM's LEAP-1A engines, with now proven increased fuel efficiencies, longer range and higher seating capacity will continue to be one of our core assets in our lease portfolio. The A321 version has also gained strong acceptance from customers in various new markets proving the versatility of the type."
Other than the one order that Airbus announced today, they unveiled a new Airbus A320 Airspace Interior which will be fitted on aircraft pending delivery. The A320 joins the A330neo and A350 Airspace Programs as part of Airbus' commonality factors of ensuring similarity in all models.
The big moment came yesterday when news surfaced of a potential new Airbus A380 model. Named the A380Plus, it has new split winglets for additional efficiency in terms of fuel burn as well as adding extra seats through the removal of a stairwell which will on average add an extra 10 seats for every class. With up to 4 percent in fuel savings and a 13 percent cost reduction per seat, Airbus hope to market the A380Plus to gain more orders for the A380 program.
Boeing
Boeing had a very strong start at the Paris Air Show on Monday. The aircraft manufacturer started off the airshow with the unveiling of their bigger variant of the Boeing 737MAX, being the 737 MAX 10. The 737 MAX 10 will have the lowest seat-mile cost of any single-aisle airplane ever produced, according to the company. Boeing let on details saying that there have been over 240 units ordered from 10 different customers which will be announced throughout the course of the trade proceedings.
"The 737 MAX 10 extends the competitive advantage of the 737 MAX family and we're honoured that so many customers across the world have embraced the outstanding value it will bring to their fleets," said Boeing Commercial Airplanes President and CEO Kevin McAllister. "Airlines wanted a larger, better option in the large single-aisle segment with the operating advantages of the 737 MAX family. Adding the 737 MAX 10 gives our customers the most flexibility in the market, providing their fleets with the range capability, fuel efficiency and unsurpassed reliability that the 737 MAX family is widely known for."
Boeing's largest orders of interests were from SpiceJet, with 40 Boeing 737 MAX orders, Lion Air Group with 50 Boeing 737 MAX 10 orders as well as AerCap signing a deal for 30 Boeing 787-9 aircraft. An order for 18 737 MAX 10 aircraft from TUI Group brought the total order count for the 737 MAX 10 to 78 in total, showing a very strong start for the newly announced program. CDB Aviation also made a big order. Valued at $7.4 billion, the order consists of 42 Boeing 737 MAX 8s, 10 737 MAX 10s as well as eight 787-9 Dreamliner aircraft.
Overall, Boeing sold a total of 210 aircraft on the commercial front, showing an incredibly strong start and showcasing a 110 unit gain over Airbus. Only time will tell throughout the week whether Boeing will be able to sustain these high numbers.
Bombardier
Aujourd'hui à 15h30, @Gaussm Martin Gauss d'@airBaltic partagera son expérience avec le #CS300 à notre espace d'exposition @salondubourget pic.twitter.com/wFu3rGyWV9

— Commercial Aircraft (@BBD_Aircraft) June 19, 2017
Bombardier only made one order on Monday at the airshow, showing what could be a very slow start for the Canadian aircraft manufacturer. They signed a deal with Manila-based carrier Philippine Airlines for seven more Bombardier Dash 8 Q400 aircraft, valued at $235 million. This was a previous deal back in December where they had a potential to firm an additional seven aircraft. This brings the total order count of 12 for the airline. Philippine Airlines' first Q400 is expected to be delivered next month.
"The Q400 aircraft have helped airlines around the world expand their networks, and capture new opportunities," said Fred Cromer, President, Bombardier Commercial Aircraft. "We are delighted that Philippine Airlines is growing its fleet with more Q400 aircraft, and are confident that the airline will benefit from the aircraft's outstanding economics and performance."
"As we position ourselves for growth, we are pleased to be adding more Q400 to our fleet," said Jaime J. Bautista, President and Chief Operating Officer, Philippine Airlines. "We are thrilled about the opportunities that lie ahead, and we look forward to offering more capacity and improving connectivity in the region with comfortable, fast and efficient regional aircraft like Bombardier's 86-seat turboprops."
Embraer
.@SalonDuBourget are you ready to see our #aircraft live on June 19th? Get a sneak peek here! #EmbraerStories #PAS17 pic.twitter.com/CRXx2OglQn

— Embraer (@embraer) June 15, 2017
No major orders were recorded by Embraer on the first day of the Paris Air Show but the Brazillian manufacturer unveiled the aircraft they are currently testing or are ready for delivery. The E195-E2, KC390 and Legacy 450 all made their debuts at Le Bourget on Monday and is recorded to be Embraer's biggest airshow display ever. They also have an ERJ 145 belonging to Air France's HOP! that will be on static display also for the general public and trade visitors to see throughout the entire week.
Antonov
#An132D taking off in Paris Le Bourget airport for the training flight.#Ukraine #KSA #Antonov #ParisAirShow #avgeek pic.twitter.com/C31xyK0RpE

— Antonov Company ???????? (@AntonovCompany) June 17, 2017
The same again for Antonov like with Embraer. No orders were announced by the Ukrainian aircraft manufacturer. The aircraft that they have showcased at this week's show is the AN-132D, which is aimed at the multi-purpose transport market, for both passengers and freight customers. The program is a collaboration between ANTONOV Company and partners from the Kingdom of Saudi Arabia, including King Abdulaziz City for Science and Technology (KACST) and the Taqnia Aeronautics Company. World leading suppliers from the global aviation industry are also involved in the program.
ATR Aircraft
We're happy that China's Xuzhou Hantong has selected the #ATR42-600 with a LOI for 3 a/c!????????????https://t.co/j0HjbacRcM #ATRLeads #PAS17 #avgeek pic.twitter.com/lSZQmxSZ26

— ATR (@ATRaircraft) June 19, 2017
ATR recorded two orders for 13 aircraft on day one, showing a stable start for the turboprop market. China's Tianju Investment Group signed an LOI (Letter of Intent) for 10 ATR 42-600 aircraft with deliveries due to start as soon as 2018 arrives. The aircraft will be used to improve commuter services across China.
Mr Yang Qiang, Chairman of Tianju Group said, "In responding to the Chinese government's strong intention to promote the General Aviation market, Tianju has made an intensive market study and identified Xinjiang as the ideal location to develop commuter service under General Aviation operations. We are convinced that the specifically adapted ATR 42-600 will provide the best answer for this market segment, which so far does not have operators dedicated to this segment. We are pleased to partner with the world's leading regional aircraft manufacturer to develop commuter service in Xinjiang and strongly contribute to China's 'Belt and Road Initiative.'"
Moments after that order was announced, China's Xuzhou Hantong also signed an LOI for three ATR 42-600 aircraft. These aircraft will be used to develop commuter services in the Jiangsu area of China.
Christian Scherer, ATR's Chief Executive Officer, added, "The Chinese government is very much encouraging General Aviation, recognising the positive impact it can have on the country's transportation system, making it just as important as commercial aviation."
Mitsubishi Aircraft Corporation
The scene has been relatively quiet for Mitsubishi. Their presence at the Paris Air Show is existent and will be looking to sell some of their MRJ aircraft. FTA-3, their static display aircraft will be in the All Nippon Airways color scheme, marking the strong relationship between the airline and the manufacturer as ANA will be the launch customer for the aircraft.
Their presence in Paris is a step-up in their program, especially as they are looking to gain some European sales. "It is an honor to showcase the MRJ at the Paris Air Show," said Shunichi Miyanaga, President and CEO, Mitsubishi Heavy Industries. "I can't think of a finer stage on which to present this highly anticipated next-generation aircraft. The European debut of the aircraft is another sign of the progress of this program."
Overall
In essence, for the big two, it has been a very strong start. With Airbus only announcing one order for the entire day, it will be interesting to see which customers they have in their pockets and whether they will have a lead over Boeing by close of business on Tuesday.
On the turboprop perspective, ATR had a fantastic start with a lot of success on their ATR 42 program. However, will ATR be able to acquire orders for the ATR 72 program or will the 42 program take the stage and thrive? Only time will tell. This concludes day one of the Paris Air Show. Make sure to check back tomorrow afternoon for more coverage of the Paris Air Show 2017.
Editor's Note: AirlineGeeks will be attending the Paris Air Show later this week. Make sure to follow our Twitter, Instagram, Facebook and website for updates. 
James is a passionate AvGeek who has been actively spotting for years. James has been an Aviation Enthusiast for 7 years and has a fond likening to Concorde! James hopes to grow in the aviation industry with journalism being his primary focus.
Latest posts by James Field (see all)