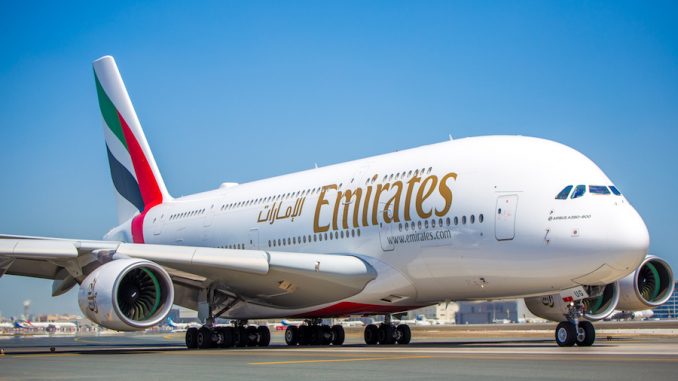 With the recent announcement by Airbus of the A380plus, an aerodynamically enhanced version of its A380 aircraft with both efficiency and revenue potential improvements, many people are watching and waiting to see if this will be an aircraft desired by the airlines.
With the Paris Air Show now underway, Airbus will be hoping their latest improvements see carriers register interest and potentially place orders for the aircraft, extending what was until now, a potentially shorter than anticipated lifespan for the aircraft.
With no new customers for the aircraft in the past several years, and only 317 aircraft currently on order, Airbus began reducing the annual production rate of its super-jumbo from 27 in 2016 to only 12 in 2017.
History of the A380 Program
Airbus originally announced they would be developing their own four-engined  'Superjumbo' back in 1994, with a project originally designated A3XX. It was to be the world's largest passenger aircraft, and the first full-length double-decker and was to compete with the already popular and hugely successful Boeing 747.
It was only in December of 2000 that the program took its current designation of A380 after the Airbus board agreed on the €8.8 billion project and gave the green light for the project to go ahead. At the time it had six confirmed launch customers, with a total of 50 firm orders in the books for the new super-jumbo.
In January of 2005, after numerous delays and growing development costs, the first test aircraft rolled out of the factory with the registration F-WWOW. This aircraft would later complete its maiden flight on April 27, 2005 before the rigorous testing and demonstration period begun. The aircraft would go on to receive its approval from the Federal Aviation Administration and European Aviation Safety Agency in December 2006.
The launch customer for the aircraft was Singapore Airlines. The carrier received its first A380 on October 15, 2007 and entered service shortly afterwards on the Singapore – Sydney route. Emirates, the current largest operator of the type, would receive its first aircraft in August of 2008 shortly followed by Qantas in October of the same year.
As of May 31, 2017, 213 aircraft have been delivered, with all aircraft still currently in operation and a further 104 yet to be delivered. Emirates is currently the largest operator of the type, with 95 aircraft currently in service and a further 47 on order.
Variants
A380F
Originally, Airbus had plans for a freighter version of the aircraft, the A380F, which received interest from numerous carriers around the world. Airbus had received orders from both FedEx and UPS along with Emirates SkyCargo.
Unfortunately after numerous delays with the program and no launch date in sight, both FedEx and UPS canceled their orders. Emirates, on the other hand, converted their freighter orders into further orders of the passenger variant. The plan for the all-cargo variant of the type was later scrapped by Airbus.
A380neo
Rumors began circulating in early 2015 that Airbus was looking into a new variant of the aircraft, one which would incorporate, new, more fuel efficient engines with an increase in the number of seats onboard. Emirates, in particular, registered huge interest in the prospect, with the Dubai-based carrier being the aircraft's current largest operator and biggest advocate to its success. However, In 2016 the European manufacturer announced that the A380neo program would be shelved, citing a lack of business case for its development.
A380plus – The Answer to Emirates' Call for a NEO?
With Emirates calling for a new iteration of the aircraft, and stating its potential for further orders of the type, a lot of eyes will be turning towards the Dubai-based carrier after the announcement of the A380plus. While this new aircraft will not feature any new engine options, it does offer significant advantages over the current variant.
With its newly designed winglets, and external design refinements, Airbus claims the aircraft has a fuel savings of up to 4 percent. For an airline like Emirates, which is currently operating 95 of the type with retirement plans potentially on the horizon soon, this could represent an enormous cost saving should the carrier wish to replace and grow its fleet.
The A380plus also offers the opportunity to increase either passenger numbers or distance flown. Potentially increasing seat numbers by up to 80 seats or the distance flown by 300 nautical miles. While this represents a huge potential for airlines looking for high load factors, better performance and lower costs per seat, it does however come at a price.
The forward "Grand" staircase, often highly regarded by customers and a significant part of the current A380's appeal, will be removed in favor of a new staircase to make way for the extra seats. Other features, such as sidewall storage, can be removed by airlines if desired to make way for a potential 11 extra business class seats, while a new 3-5-3 seating layout on the main deck will pave way for a further 23 seats.
Only time will tell how successful the A380plus will be. With the airshow currently underway, Airbus will be doing all they can to drive up interest in the aircraft, and carriers will be watching closely with great interest as to whether or not this aircraft can meet their needs.
It is currently rumored that Emirates is in talks with Airbus over the A380 winglets, but this has yet to be confirmed. Airbus has however stated that the winglets will not be a retrofit, and will instead only be fitted to new build aircraft.
Josh is a long-term aviation enthusiast and aspiring commercial airline pilot. From a young age, he has immersed himself in all things aviation. From plane spotting at local airports and airfield to racking up frequent flier miles on trips abroad, Josh is a huge AvGeek at heart. He graduated from university in September 2017 with a first class Bachelor of Science degree in Air transport. He completed his pilot training, gaining his Frozen ATPL in November 2017 upon completion of his Multi-Engine Instrument rating and Multi-crew/Jet orientation course. He currently has around 230 hours of flying experience in various aircraft. He hopes to join an airline as a first officer by the end of 2017.

He frequently flies on one of his favorite airlines, British Airways, and is an avid Avios collector and British Airways Executive Club member.
In his spare time, while not studying, flying or immersing himself in aviation he enjoys spending his time volunteering in a variety of roles and running a blog to help other aspiring pilots pursue their dream.
Latest posts by Joshua Drabble (see all)