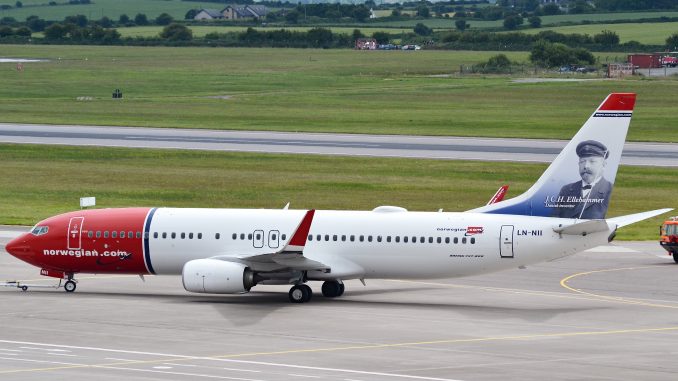 This weekend, Norwegian began what will be the first of many flights from Ireland under their new Air Operator's Certificate (AOC). The transatlantic flights launched from Cork, Dublin and Shannon, highlighting the significant start of operations in the country.
The news follows an earlier announcement this year in which the carrier stated that it would operate 19 weekly transatlantic flights from the three airports to U.S destinations such as Stewart International Airport, north of New York City, and Providence, near Boston.
Norwegian CEO Bjorn Kjos stated "We are delighted to finally launch these new transatlantic routes which simply wouldn't have been possible without the huge support from across Ireland over the last 3 years. Travel should be affordable for all so these new transatlantic flights offer more choice and lower fares that will allow as many Irish passengers as possible to fly."
On July 1, the first transatlantic flight in Cork Airport's 56-year history took to the skies, marking the new three weekly flights to Providence. The same day also commemorated new service from Dublin to Stewart International Airport, which will operate daily.
The weekend of new flights continued on July 2 with the launch of flights to Stewart International from Shannon Airport, which will operate on a twice per week basis. Finally, on July 3 Norwegian launched another Dublin service to Providence, which will fly five times per week basis.
All of these flights operating from Shannon and Dublin will benefit from the U.S. Preclearance facilities at the airport which will allow passengers flying to the U.S from Ireland to be treated as domestic passengers so that they can avoid immigration queues.
With Stewart International being a 90-minute drive from New York, the airport has launched a new direct shuttle service into the city centre. The coaches, operated by Coach USA, have been timed to meet the flight arrivals and departures of each flight.
As with Stewart International, Providence Airport also has a range of road, rail and bus links that make Boston just the same time away. These facilities will benefit passengers who want cheaper flights as airports such as Providence and Stewart will offer lower landing fees to those like Norwegian. This has resulted in the carrier offering flights from 129 EUR one way to 230 EUR return.
These new flights will be added to the 150 global destinations that the carrier already operates to. This comes with what appears to be a strategy of further worldwide growth, especially with Norwegian filing for an Air Operator's Certificate into Argentina, hinting at the probable growth in the Latin America and South American market that the continent is currently experiencing at this time.
Norwegian ultimately decided to add these flights at a time when there is no direct competition into the secondary airports. The only competition would come from carriers operating out of Dublin that fly to the mainstream airports like New York's JFK, Newark and other cities such as Chicago. This will enable the carrier to gain as much market share as possible before other low-cost, long-haul carriers create similar operations.
James is a passionate AvGeek who has been actively spotting for years. James has been an Aviation Enthusiast for 7 years and has a fond likening to Concorde! James hopes to grow in the aviation industry with journalism being his primary focus.
Latest posts by James Field (see all)