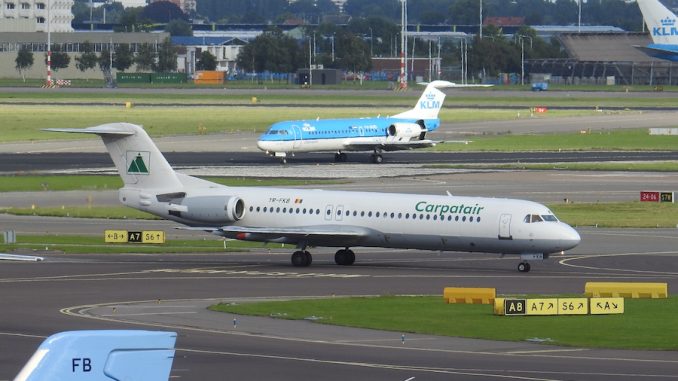 The Fokker Aircraft Corporation launched their last great aircraft in the mid-1980s with the creation of the narrow body Fokker 100 and eventual baby version with the Fokker 70. While the aircraft wasn't the most popular, Fokker sold a respectable 300+ airframes before going into bankruptcy in 1997.
In service, the Fokker jet aircraft has operated for dozens of popular airlines ranging from TAM Linhas Aereas and American Airlines in the Americas to KLM and AirUK in Europe. Now twenty years since Fokker terminated the airframe, the aircraft is rapidly declining in some parts of the world while finding new homes elsewhere.
The Fokker 100 was the original of the two concepts, providing seating for up to 122 passengers in a 2 by 3 layout. The original F100 rolled out of the factory in the Netherlands in 1986. Deliveries started two years later with Swissair becoming the first operator in what would sell to more than three-dozen airlines around the world.
A smaller version of the F100, the F70, was launched in 1993 with seating for up to 85 passengers. The two aircraft remained on Fokker's production lines until the company's bankruptcy in 1997.
In Europe, the Fokker 100 and 70 are seeing great decreases in service this year. By Christmas, the continent's two largest Fokker jet operators (KLM and Austrian) will retire all their aircraft as they are replaced with Embraer ERJ-175s for KLM and Embraer ERJ-195s for Austrian.
When these airframes are retired Europe will only have 12 Fokker 100s in total. With the decline of KLM and Austrian's Fokker fleets, this makes Helvetic Airways of Switzerland the largest operator in the European Union with five aircraft. Other operators of the Fokker 100 include Romania's Carpatair (3 aircraft), AvantiAir (2 aircraft), and Trade Air (2 aircraft).
While Europe is seeing a decline in the use of Fokker aircraft, Australia has made itself at home with the old bird. Most of the KLM and Austrian aircraft are being transferred to Alliance Airlines of Perth who uses the aircraft on routes in Western Australia.
Alliance already operates 11 Fokker 70s and 17 Fokker 100s and will assume control of 5 Fokker 70s and 10 Fokker 100s to meet demand. However, they are not the only Fokker 100 operator with national carriers QantasLink and Virgin Australia operating the Fokker as well. QantasLink operates 17 Fokker 100s and Virgin Australia operates 15 Fokker 100s. In Virgin Australia's case, most of the F100s were brought in from a merger with SkyWest Airlines in 2013 and still operate from the carrier's Perth hub.
If you are looking for the Fokker aircraft in the Americas it's definitely a tough find. There are only 11 aircraft in both North and South America and only three operators. Air Panama is the largest operator with five Fokker 100s and six on order but outside of Panama, the only other operators include Fly All Ways of Suriname (2 Fokker 70s) and Insel Air of the Netherlands Antilles (4 Fokker 70s). To add insult to injury, Insel Air's recent struggles financially may result in the grounding of the carrier, leaving the Americas down to just two operators.
Papua New Guinea's Air Niugini has grown to include the Fokker 70 and 100 into their fleet with the airline operating five of the 70s and seven of the 100s. Air Niugini also plans to take over four of KLM's old Fokker 70s before the end the year. The new aircraft will buff Air Niugini's domestic operations, especially their services between Port Moresby and outlying cities like Wewak, Mount Hagen, and Lae.
The rest of the world combines for 35 of the remaining Fokker 70s and 100s. Iran is currently home to 27 aircraft being inside the country's borders and operating for Iran Air, Iran Aseman Airlines, Kish Airlines and Qeshm Air. However, the fleet renewal of Iran Air will see the Fokker 100 be replaced by the ATR 72 as deliveries occur this year.
With airlines in the western world continuously retiring older aircraft, it was only a matter of time before the Fokker 100 was giving similar treatment to the McDonnell-Douglas MD-80s and Boeing 737-200s that have all but vanished from the European and American skies.
While these aircraft have brought forward productive years with famed airlines, their service continues in other parts of the world. So if you were looking forward to flying a Fokker 100 at some point, you might have to start looking into more unique destinations.
This story was updated on Sunday, July 9, 2017 at 9:35 a.m. ET to more accurately reflect main cabin seating arrangements on Fokker aircraft.

Ian has been an avgeek since 2004 when he started spotting US Airways Express planes at Johnstown Airport in Johnstown, Pennsylvania. He now lives in Wichita and enjoys spotting planes in Kansas City and Wichita as well as those flying at high altitudes over his home. He is a pilot with more than 40 hours of experience behind a Cessna 172, Diamond DA-20, and Piper PA-28. He flies Southwest Airlines on most of his domestic flights and Icelandair when flying to Europe. Ian's route map spans from Iceland and Alaska in the north to St. Maarten in the south. He is a student at Wichita State University, where he will study aerospace and mechanical engineering.

Latest posts by Ian McMurtry (see all)