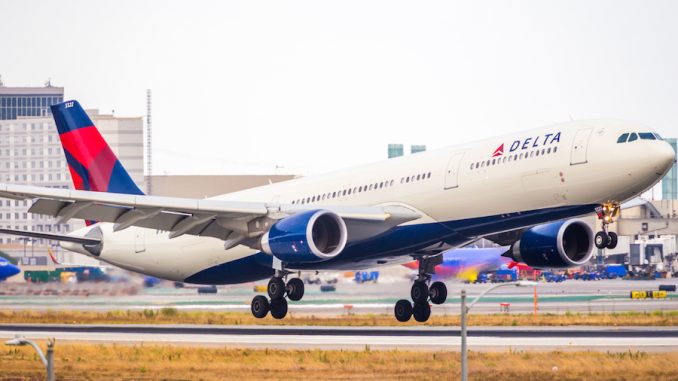 Delta announced its June quarter 2017 earnings, reporting a net income of $1.2 billion on revenues of $10.79 billion. The announcement highlights approximately a 20.8 percent fall in quarterly profit as operating expenses grew for the global airline.
Operating revenues grew to $10.79 billion this quarter compared to $9.14 billion Q1 of 2017. This represents an increase of 17.7 percent over last quarter and a modest increase of 3% over Q2 last year. This is despite the $125 million negative impact that Delta suffered in April 2017 following a series of severe storms which compounded cancellations for days, and likely attributed to an IT overload causing scheduling systems to malfunction.
Success of Basic Economy and Credit Card Deals
Delta attributed its growth in revenue to an increase of $261 million in passenger revenue, of which $100 million came from Delta's Branded Fares initiatives such as the Basic Economy tickets which are now available on many of Delta's routes.
The airline witnessed a 2.5 percent growth in passenger revenue per available seat mile (PRASM), a key indicator for pricing power. This is a metric in which some of Delta's competitors, such as American Airlines, has struggled with in recent years.
Growth was also seen in the cargo sector with an increase of 11 percent driven by higher volumes of cargo such as freight and mail.
Delta's partnership with American Express produced $70 million in incremental value, and is on target to reach $300 million in incremental value for 2017. This includes another record year for co-brand credit card customer acquisition, highlighting the continued importance of strong relationships with selling the airline's SkyMiles.
Fuel Costs Drive Down Net Income
However, while revenue growth was strong, net income declined, driven by increasing operating costs. Fuel and labor are among the largest costs an airline faces, and Delta is not immune to this. Aircraft fuel related expenses for Delta climbed 18 percent to $1.45 billion during the quarter even with some benefits gained from smart fuel hedging. This along with a 9 percent increase in labor costs dragged down earnings.
The Zacks Consensus Estimate called for earnings of $10.81 billion and an earnings per share of $1.66. Delta narrowly missed these estimates with $10.79 billion in revenues and an earnings per share of $1.64. This has disappointed many investors, pushing the shares down as much as 2.4 percent at the time of writing.
Given the somewhat lower than expected performance of Delta, the airline still leads the industry by most financial metrics. Debt to Equity is 0.63 percent compared to the industry average of 1.07 percent. Leverage ratio is 3.98 compared to the industry average of 4.62.
Even with the increase in costs, Delta reported strong cash flow. The airline generated $2.8 billion of adjusted operating cash flow and $1.9 billion of free cash flow during the quarter. This cash will come in handy as $1 billion will be invested back into the business for aircraft purchases and facility upgrades.
The airline also returned $748 million to shareholders, $148 million in dividends and $600 million in share repurchases. This is becoming a common trend within the airline industry which is leading many to wonder if all of these share buybacks are the best use of the airline's cash. Airlines, along with many other companies outside of the industry, often use share buybacks when they feel as though the share price is artificially lower than it should be.
Future Investments
Looking to the future, Delta is in-line with their unit revenues. The airline is expecting lower fuel costs to drive margin expansion. Looking holistically, Delta will be in-line with their lower end of long term goals. In each of the next three years Delta is targeting operating margins of 16-18 percent, an earnings per share of 15 percent, and approximately $4.5-5.5 billion in free cash flow.
Delta has outlined their strategy to reach these targets through four key factors. First, the airline planes to continue investing in the product to increase customer loyalty and brand value. Second, frequently reviewing and adjusting capacity available on its route. Third, the airline hopes to to control various non-fuel costs to deliver on margin and cash flow targets.
Finally, to have disciplined capital allocation with half of operating cash flows being invested in the business and the other half going towards balance sheet goals such as paying liabilities and returning value to shareholders. The airline is confident in their strategy to meet both 2017 and long term goals, but only time will tell if they succeed.

Hemal took his first flight at four years old and has been an avgeek since then. When he isn't working as an analyst he's frequently found outside watching planes fly overhead or flying in them. His favorite plane is the 747-8i which Lufthansa thankfully flies to EWR allowing for some great spotting. He firmly believes that the best way to fly between JFK and BOS is via DFW and is always willing to go for that extra elite qualifying mile.

Latest posts by Hemal Gosai (see all)