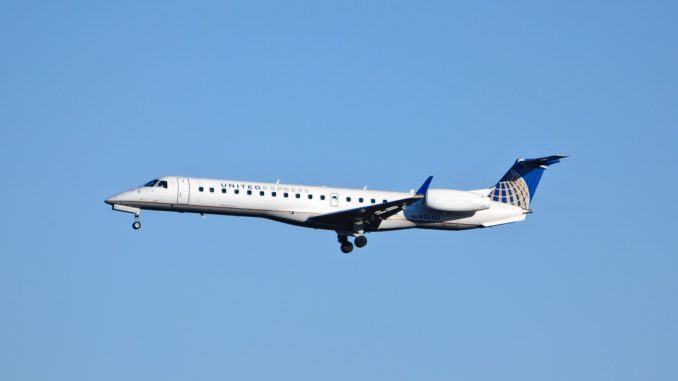 Regional airline CommutAir has just announced an agreement with United Airlines that will see 21 additional ERJ145s added to the fleet. The Ohio-based airline, which is 40% owned by United, has announced the memorandum of understanding for the additional aircraft as it aims to accelerate the retirement of its turboprop fleet.
The additional aircraft will be added to the airline's existing contract with United to fly 40 aircraft under the United Express brand, bringing the total number of aircraft it expects to operate to 61. The airline expects its final Bombardier Dash-8 to be retired in January 2018.
Subodh Karnik, CommutAir's President & CEO, commented: "We are gratified by United's renewed vote of confidence in CommutAir's dedicated employees, This development will allow us to triple in size by 2019, provide tremendous career-growth opportunities for our employees, and help us pursue our vision of 'becoming United's regional airline partner of choice."
The announcement comes after the agreement reached last year between the two airlines, which resulted in United purchasing a 40 percent ownership stake in CommutAir and providing a Capacity Purchase Agreement (CPA) to introduce 40 new ERJ145 aircraft into its fleet.
The airline also announced further changes to its pilot recruitment program, introducing significant changes to its pilot sign-on bonus program and enhancements to the Career Path Program (CPP) which United introduced last year to provide CommutAir pilots the chance to progress to the United flight deck in as little as a year. The airline cites this rapid growth will only mean more opportunities for pilots.
"Our growing team of 800 plus aviation professionals embrace our family environment and can-do culture and were the driving force behind the successful launch of the Embraer ERJ145 in 2016 – which was faster than the three other operators who undertook similar efforts last year," said Joel Raymond, Chief Operating Officer.  "Accelerating Dash-8 retirements and continuing to grow the Embraer ERJ145 fleet will afford our pilots and other employees with leading regional airline industry career advancement opportunities."
Josh is a long-term aviation enthusiast and aspiring commercial airline pilot. From a young age, he has immersed himself in all things aviation. From plane spotting at local airports and airfield to racking up frequent flier miles on trips abroad, Josh is a huge AvGeek at heart. He graduated from university in September 2017 with a first class Bachelor of Science degree in Air transport. He completed his pilot training, gaining his Frozen ATPL in November 2017 upon completion of his Multi-Engine Instrument rating and Multi-crew/Jet orientation course. He currently has around 230 hours of flying experience in various aircraft. He hopes to join an airline as a first officer by the end of 2017.

He frequently flies on one of his favorite airlines, British Airways, and is an avid Avios collector and British Airways Executive Club member.
In his spare time, while not studying, flying or immersing himself in aviation he enjoys spending his time volunteering in a variety of roles and running a blog to help other aspiring pilots pursue their dream.
Latest posts by Joshua Drabble (see all)