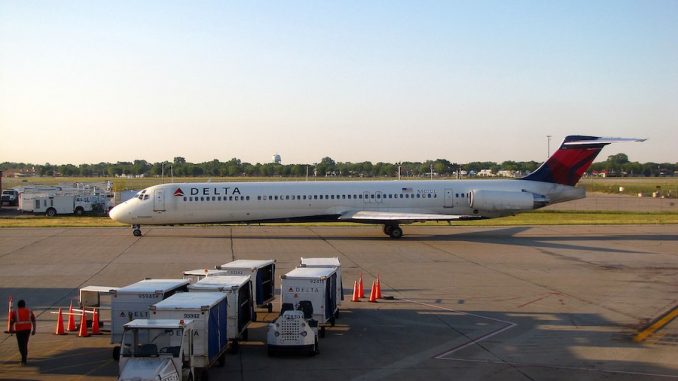 Being promoted from a first officer to a captain can be a lengthy process, taking sometimes up to ten years to receive the promotion. Atlanta-based Delta Air Lines plans to offer faster promotions for junior pilots entering the airline industry. The only guideline is that new pilots must fly the McDonnell Douglas MD-88 jet, nicknamed "The Mad Dog," according to Bloomberg.
Many pilots find the MD-88 outdated and an uncomfortable aircraft to fly. Even U.S. Senate Minority Leader Chuck Schumer of New York celebrated Delta's decision when it decided to stop flying the rather noisy aircraft into LaGuardia Airport.
But the airline still plans to keep the aircraft in its fleet at least for another three years, so this means it will need qualified crew members to fill the flight deck seats.
Young pilots are jumping at the opportunity to join the carrier flying the MD-88 as it will pay well, too. First-year first officers typically make $86 working for a major airline, while new captains make about $220 an hour, according to Louis Smith, President of Future & Active Pilot Advisors. This means that pilots willing to fly the older McDonnell Douglas jets will receive a big pay raise in addition to the quick promotion.
Experienced pilots also choose to decline promotions to captain on regional and short-haul aircraft to first officers on airplanes such as the Boeing 747 and 777 that fly longer routes and require many less legs to fly due to the long duration of transatlantic and transpacific flights.
While the MD-88 is the oldest aircraft in Delta's fleet, junior pilots are not the only ones who benefit from flying the aircraft type. Many passengers remain fans of the aircraft as the seats are configured in a way that one row has only two seats, equating to more window and aisle seats and less middle seats.
Delta has also refitted the interiors of all its MD-88s with new seats and expects to continue flying the aircraft for a few more years.

Mateen has been interested in aviation from a very young age. He got his first model airplane at six and has been airplane spotting since he was nine years old. He has always had a passion for aviation and loves learning about different aspects within the industry. In addition to writing for AirlineGeeks, Mateen is also an editor for his high school's newspaper. You can also find him on Instagram (@Plane.Photos) where he enjoys sharing his aviation photography with thousands of people everyday.

Latest posts by Mateen Kontoravdis (see all)