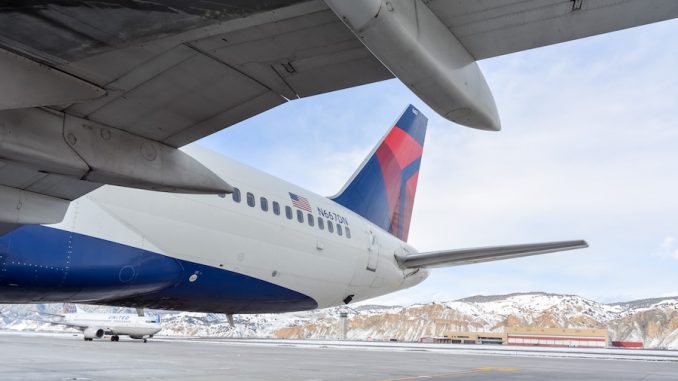 Delta Air Lines has announced their new winter schedule aimed at the skier market. The new service will begin on December 21.
Delta is adding nonstop flights from their hub at Salt Lake City to Vail/Eagle, Colo. and Montrose/Telluride, Colo. Twice weekly flights from Atlanta to Vancouver will also be added.
The company is also increasing service to Aspen, Jackson Hole, Bozeman, and Calgary, Alberta.
According to a press release issued by the airline, Delta serves 260 daily flights to 94 cities from Salt Lake City. The statement also mentions that Salt Lake City has multiple award-winning ski resorts within an hour from the airport.
New service will be added to 11 airports running from Dec. 21, 2017 to April 2, 2018. The 11 new destinations are as follows:
Aspen/Snowmass
Vail/Eagle
Hayden/Steamboat Springs
Montrose/Telluride
Sun Valley
Bozeman
Kalispell/Whitefish
Reno/Tahoe
Jackson Hole
Calgary/Banff, Alberta
Vancouver/Whistler, British Colombia
The Atlanta-based carrier has been busy adding new routes. Since August of this year, the Delta has added Orlando to Amsterdam service, New York-JFK to Lagos, and Indianapolis to Paris. Delta has also expanded their Atlanta to Shanghai route as well as multiple flights to Seattle and Austin.
Matthew Garcia became interested in aviation at the age of 12 when he installed Microsoft Flight Simulator X on his computer. He was instantly "bitten by the bug" and has been in love with aviation ever since. Matthew took his first introductory flight in 2013 and began normal flight training in February of 2015. Over the years, Matthew's love and knowledge for aviation has grown tremendously, mainly due to FSX. Garcia flies highly advanced aircraft in a professional manner on a highly complex virtual air traffic network simulating real world flying. In 2016 Matthew achieved his private pilot certificate from the FAA. Now he studies journalism at the University of Nebraska at Omaha.
Latest posts by Matthew Garcia (see all)