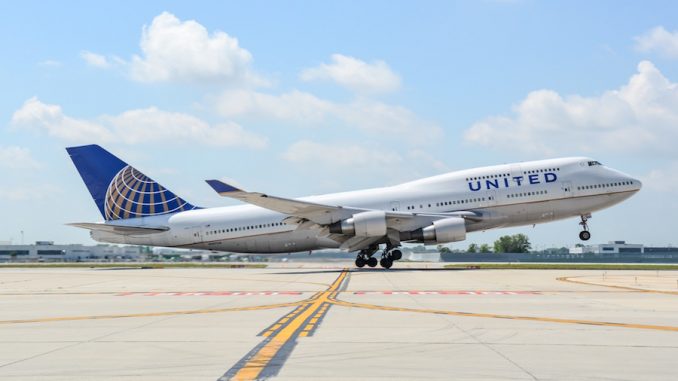 United Airlines is preparing to retire its Boeing 747 fleet in the most fitting way possible, with a flight from San Francisco to Honolulu scheduled for Tuesday, November 7, the same flight that the first "United Queen" flew back in 1970.
The airline is expected to be putting on a major throwback show for the last flight of the "Friend Ship," the name of the original 747 owned by the company, including a 1970s style menu, retro flight attendant uniforms, and special in-flight entertainment.
Tickets for this special event are already on sale. However, very few customers that are looking to purchase tickets on the upper deck will be able to do so. Instead, United plans to keep most of the upper deck open for all guests to visit and tour while in flight.
Passengers who purchase United Polaris first class and United Polaris business class tickets will be entered into a drawing prior to the flight to win the chance to sit in a limited number of upper deck seats.
Just in: Our final #B747 flight will recreate our first from 1970. https://t.co/4y2vU6c9x4 #UA747Farewell #AvGeek #QueenOfTheSkies ✈???? pic.twitter.com/Fym3nfpb0b

— United (@united) September 18, 2017
The throwback experience is expected to begin at 9 a.m. local time at San Francisco International Airport, including a 747 gallery and speeches from United employees and executives. The flight will leave at 11 a.m. and land in Honolulu at 2:45 p.m. local time.
Honolulu employees will greet the flight and host several festivities before saying a final goodbye to the Queen, with the hashtag #UA747Farewell being created for the special event.
United Airlines has provided some history about the the Boeing 747:
April 13, 1966: Boeing announces it will build a 490-passenger 747 transport. Construction is set to begin in June on a new plant in Everett, Washington.
January 3, 1967: The first production workers for the 747 program arrive in Everett. The 50,000 who would produce the world's largest civilian airplane were known as The Incredibles, and they earned the label by bringing the Jumbo Jet dream to reality in only 16 months.
September 30, 1968: The first Boeing 747-100, City of Everett, is rolled out at their Washington plant, painted with the insignias of the 27 airlines that had already ordered the aircraft including United.
February 9, 1969: The Boeing 747-100 makes its first flight.
January 21, 1970: The Boeing 747 makes its first commercial flight from New York to London for Pan American World Airways.
June 26, 1970: Continental Airlines becomes one of the first carriers to put the Boeing 747 into U.S. domestic service, flying from Chicago to Los Angeles and onward to Honolulu.
June 26, 1970: United Airlines receives its first Boeing 747-100 complete with a christening ceremony fit for a luxury liner.
July 23, 1970: United Makes its first Boeing 747 commercial flight, with a trip from San Francisco to Honolulu.
January 1977: A modified Boeing 747-100 is delivered to NASA to serve as a carrier vehicle for the Space Shuttle.
April 22, 1985: United announces its plan to acquire Pan Am's Pacific routes, as well as 11 Boeing 747SP planes. The 747SPs featured a 48-foot-shorter body and fly higher, faster, and farther than standard 747 models.
January 29-30, 1988: Friendship One, a Boeing 747SP owned by United Airlines, sets the around-the-world air speed record for 36 hours, 54 minutes, and 15 seconds. This special flight raises $500,000 for children's charities through the Friendship Foundation. Tickers cost a minimum of $5,000, and special guest passengers included astronaut Neil Armstrong, famed test pilots Bob Hoover and Lieutenant General Laurence C. Craig, and Moya Lear, the widow of Lear Jet founder of Bill Lear.
June, 1989: United Airlines receives their first Boeing 747-400 which provides increased range.
August 23, 1990: The first of two modified Boeing 747-200Bs is delivered to the Air Force for presidential transport. Better known as Air Force One, these planes still serve the president today, having replaced the Boeing 707-32-Bs that had served as the presidential aircraft for almost 30 years.
September 1996: A 747SP previously flown by United is transformed into NASA's SOFIA, or Stratospheric Observatory for Infrared Astronomy, which carries a 17-ton, 8-foot-wide infrared telescope mounted behind an enormous sliding door.
June 28, 2014: Boeing delivers the 1,500th 747 to come off the production line. The 747 aircraft is the world's first wide-body airplane in history to reach the 1,500 production units milestone.
January 11, 2017: United announces that it will retire the Boeing 747-400 fleet in the last quarter of 2017.
July 28, 2017: United schedules a special domestic flight from Chicago O'Hare to San Francisco to allow more people to say farewell to the Queen of the Skies.
October 29, 2017: United flies its last international 747 flight from Seoul to San Francisco.
November 7, 2017: United celebrates the retirement of the Boeing 747 with a fitting full-circle movement. A special retro event sees the aircraft flying from San Francisco to Honolulu, a nod to its first-ever flight back in 1970.
Currently, the airline has 13 747s remaining in its fleet, with many retiring in late October and early November.
Matthew Garcia became interested in aviation at the age of 12 when he installed Microsoft Flight Simulator X on his computer. He was instantly "bitten by the bug" and has been in love with aviation ever since. Matthew took his first introductory flight in 2013 and began normal flight training in February of 2015. Over the years, Matthew's love and knowledge for aviation has grown tremendously, mainly due to FSX. Garcia flies highly advanced aircraft in a professional manner on a highly complex virtual air traffic network simulating real world flying. In 2016 Matthew achieved his private pilot certificate from the FAA. Now he studies journalism at the University of Nebraska at Omaha.
Latest posts by Matthew Garcia (see all)