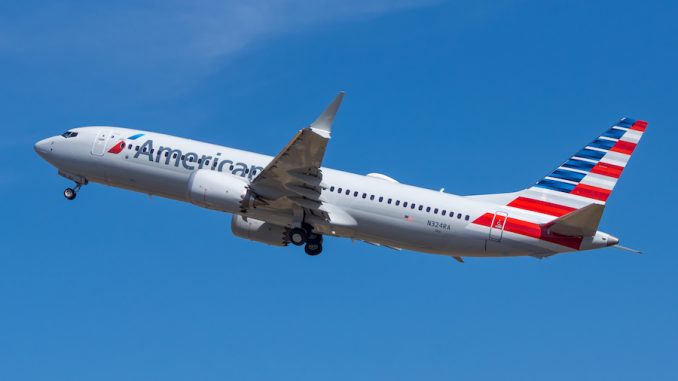 Fort Worth-based American Airlines is taking delivery of its first Boeing 737 MAX 8 today.
In July, the aircraft was on the final assembly line at Boeing's plant in Renton, Washington, and now that flight testing has been completed, the aircraft will be handed over to American so they can begin preparing it for service at the airline's maintenance base in Tulsa.
Currently, the airline has announced that the 737 MAX 8 will enter service in November on the Miami to New York to LaGuardia route. According to reports, the aircraft will be operated on this route until December 14, when American begins to shift its schedules to accommodate for holiday travelers.
The aircraft, N324RA, line number 6515, will be the first of four 737 MAXs American expects to receive in 2017. American has placed orders for 100 737 MAXs and plans to receive 20 aircraft a year until its order is complete. These new planes will complement the 294 current Boeing 737-800 aircraft in the airline's fleet.
Configured with 16 first class seats and 156 economy seats, the MAX will have a seat pitch of 30 inches in economy, down from 31 inches on most American aircraft, and no seat-back entertainment. Instead, passengers will be offered free streaming entertainment and ViaSat Wi-Fi, a supposed improvement compared to the current Gogo-enabled flights.
While American's competitor, Delta Air Lines, has not placed any orders for the 737 MAX, Chicago-based United Airlines has also placed an order for 161 737 MAXs, 100 of which are for the 737 MAX 10 and 61 being for the 737 MAX 9. United expects to receive its 737 MAXs between 2019 and 2020.
Meanwhile, Dallas-based Southwest Airlines already received its first 737 MAX 8 in August and is continuing to receive more orders. Southwest plans to enter their 737 MAXs into service beginning Sunday, October 1.
As the U.S. launch customer for the 737 MAX, Southwest has an order for 200 of the aircraft and plans to have 14 operational by the end of 2017.
American's 737 MAX delivery flight will operate as flight 9701 from Boeing Field to Tulsa International Airport.
An "AvGeek" for most of his life, Akhil has always been drawn to aviation. If there is an opportunity to read about an airline, fly on a new airplane, or talk to anyone about aviation, he is on it. Akhil has been on over 20 different kinds of aircraft, his favorite being the MD-80. Additionally, he has visited 5 continents and plans to knock out the remaining two (Africa and Antarctica) soon. Based in Dallas, Akhil graduated from Texas A&M University with a degree in Management Information Systems and currently works in consulting. His dream is to become an airline executive.
Latest posts by Akhil Dewan (see all)