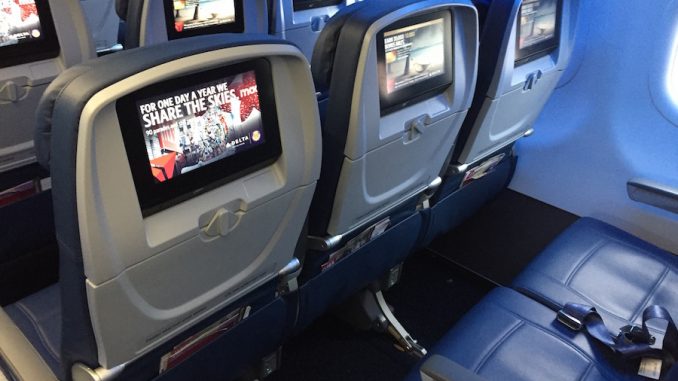 To stay in touch with friends, family, and clients while flying, passengers must pay for onboard Wi-Fi. Most U.S. domestic Wi-Fi services cost around $5 which may not be worth it to some, especially on short flights. Two U.S. carriers have announced a solution.
American Airlines and Delta Air Lines have announced free inflight mobile messaging through Apple iMessage, WhatsApp, and FaceBook messenger free of charge.
Beginning on Sunday, Delta will be the first carrier to offer the free messaging service. Delta is rolling out the new amenity as a part of their multi-billion-dollar investment to upgrade the passenger experience.
"We know many of Delta's customers want or need to stay connected in the air and on the ground, which is why we're investing in an easy, free way to send and receive messages inflight through some of the most popular global platforms," said Delta's Senior VP and Chief Marketing Officer Tim Mapes.
"Coupled with our investments in seat-back screens, free entertainment, and High-Speed Wi-Fi, free messaging is one more way customers can choose how to make the most of their time on Delta flight," Mapes added.
The free messaging feature will be available on aircraft with two or more cabins and that also are enabled with Gogo Wi-Fi.
An announcement by American Airlines on Thursday revealed that they will also roll out a similar feature in the future. An exact date was not provided.
American confirmed the service will be available on flights enabled with Wi-Fi free of charge. The Fort Worth-based company currently charges $5 for in-flight text messaging on most domestic flights.
Don't Fly Without These!
Matthew Garcia became interested in aviation at the age of 12 when he installed Microsoft Flight Simulator X on his computer. He was instantly "bitten by the bug" and has been in love with aviation ever since. Matthew took his first introductory flight in 2013 and began normal flight training in February of 2015. Over the years, Matthew's love and knowledge for aviation has grown tremendously, mainly due to FSX. Garcia flies highly advanced aircraft in a professional manner on a highly complex virtual air traffic network simulating real world flying. In 2016 Matthew achieved his private pilot certificate from the FAA. Now he studies journalism at the University of Nebraska at Omaha.
Latest posts by Matthew Garcia (see all)