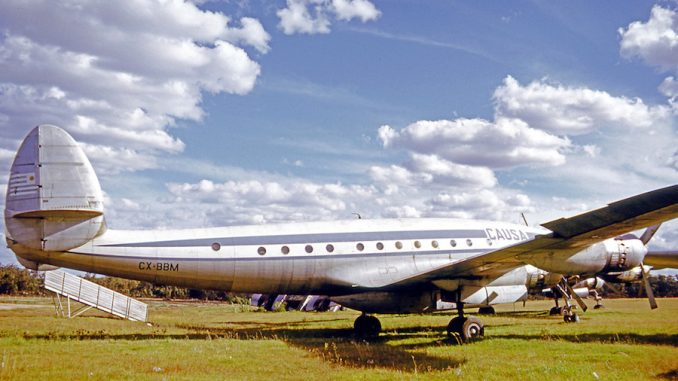 Founded in December of 1936, Uruguayan carrier Compania Aeronautica Uruguaya SA, or CAUSA, was formed by banker Luis J. Supervielle and Colonel Tydeo Larre Borges. For the next 31 years, the airline would play a sizable role in Uruguay's airline industry.
Flights began in 1938, using a 17 seat Junkers Ju 52 configured as a floatplane. Eventually, their fleet expanded to include the Short Sandringham 7, Lockheed Constellation L-749, Short Sunderland, Curtiss C-46, and a leased Lockheed L-1049.
Flying boats were extremely iconic and proved to be an overwhelming success for CAUSA. The popularity of the aircraft caused the airline to introduce several variations to their fleet. CAUSA maintained the aircraft throughout their history up until 1962, when passenger preference for conventional airplanes led it to suspend flying boat service indefinitely.
Initially, CAUSA had an extremely sparse and limited route network. The carrier launched with its sole focus on the short and profitable Montevideo to Buenos Aires route. Eventually, the carrier set up their hub at Carrasco International Airport in the capital of Uruguay, Montevideo. After their initial route, the airline started service from Montevideo to Punta del Este and Buenos Aires to Colonia.
Towards the end of their operations, the airline attempted to begin service from Montevideo to Sao Paulo and Montevideo to Miami. However, CAUSA collapsed before these routes were able to start.
The iconic Lockheed Constellations, affectionately called "Connies,"  remained until the airline came to a close in 1967 after a 31-year run.
Ashley is currently a senior in high school and plans on pursuing a career in aviation or journalism. Her favorite airplanes include the Boeing 777, 737MAX, and Airbus A350. She enjoys taking flights on various airlines to different airports and planespotting at her local airports.
Latest posts by Ashley Magoon (see all)