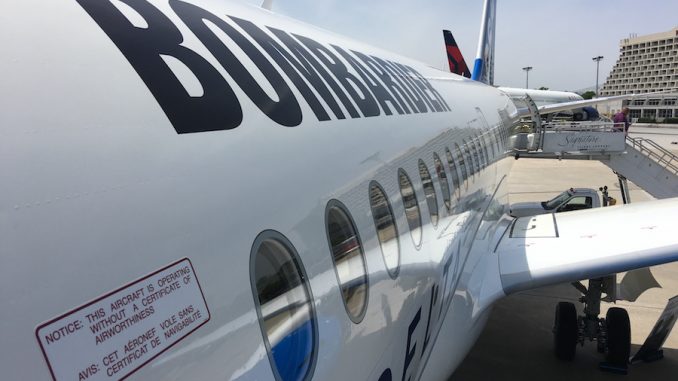 Atlanta-based Delta Air Lines has announced that they plan to remain committed to their order of 75 CS100 aircraft from Canadian aircraft manufacturer, Bombardier, after recent events involving complaints from Boeing and proposed tariffs to be levied by the U.S. Department of Commerce.
"We love the product and we can't wait to bring it market," said Ed Bastian, Chief Executive Officer of Delta, regarding the CSeries aircraft at a media event earlier this week.
The statement comes after days of jabs exchanged between U.S.-based Boeing, Bombardier, and France-based Airbus.
The conflict arose after a complaint filed by Boeing alleged that Bombardier had been receiving government subsidies since 2008 in order to make the C Series program a success.
Taking action on the complaint, the U.S. Department of Commerce asked Bombardier to provide information but Bombardier refused, claiming that it would allow rivals, like Boeing, with a look into its business and pricing structure.
Following the refusal, U.S. authorities decided to impose a 300 percent anti-dumping tariff on Bombardier for the C Series aircraft.
With the CS100 and CS300 already in operation with Swiss Air and Air Baltic, and the order of 75 to Delta, Bombardier viewed Boeing's complaint as "an attack on innovation."
In support of Bombardier, Airbus announced plans earlier this week to purchase a 50.01 percent stake in the CSeries program, allowing for the C Series jet to be assembled at Airbus' plant in Mobile, Ala.
"When you produce an aircraft in the US, it is not subject to an import duty under US rules. We are not circumventing anything," said Alain Bellemare, Chief Executive Officer of Bombardier.
Delta did not have any input when the Bombardier-Airbus deal came together, but Bastian acknowledged that he was aware of the discussions and remains optimistic of the deal.
Boeing has also claimed that Bombardier sold the CS100 to Delta at below-market rates, a threat to Boeing's 737-700 and 737 Max 7 programs. Delta has claimed that the 737 was never an option for its 100-seater aircraft.
While Delta remains committed to its order, the schedule for delivery may have to be pushed back due to the new arrangements. Delta was originally scheduled to receive the first 16 CS100s in 2018.
Executives from Delta, Airbus, and Bombardier are expected to begin conversations soon to detail the timing of delivery, with Airbus Chief Executive, Tom Enders, claiming that Delta would be "willing to wait" for the C Series.
An "AvGeek" for most of his life, Akhil has always been drawn to aviation. If there is an opportunity to read about an airline, fly on a new airplane, or talk to anyone about aviation, he is on it. Akhil has been on over 20 different kinds of aircraft, his favorite being the MD-80. Additionally, he has visited 5 continents and plans to knock out the remaining two (Africa and Antarctica) soon. Based in Dallas, Akhil graduated from Texas A&M University with a degree in Management Information Systems and currently works in consulting. His dream is to become an airline executive.
Latest posts by Akhil Dewan (see all)