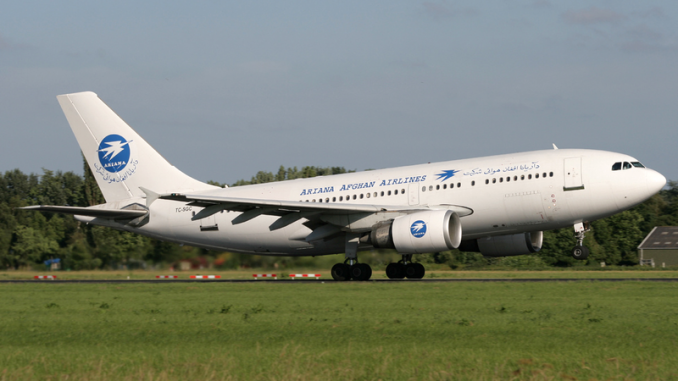 For years, the country of Afghanistan has seen its flag carrier operating mostly unopposed within the country, with the hardest competition coming from a few carriers rapidly coming and going in the 1990s. However, the flag carrier of Afghanistan, Ariana Afghan Airlines, has seen a rise in competition since the mid-2000s, with the potential to challenge its monopoly on airline travel in the country.
Ariana Afghan Airlines
Founded in 1955, Ariana Afghan is currently owned by the state-controlled Pashtany Bank and has come to provide a steady profit for the country. The carrier has maintained consistent service throughout the Middle East and Asia, with slight variation in which cities are served either because of demand or regional conflict.
Ariana Afghan currently serves 13 destinations and the airline is currently the only Afghan carrier to fly to Russia and China, with flights to Moscow-Sheremetyevo and Urumqi, respectively. The airline also has a select number of domestic routes, flying between Kabul and Mazar-e-Sharif, Herat and Kandahar.
The carrier recently underwent a small fleet overhaul, as the Boeing 727s the carrier had previously used were replaced with cheaper Boeing 737-400s. In addition to its short-haul Boeing fleet, the airline operates two Airbus A310s for its long-haul routes.
Kam Air
The first major carrier to challenge Ariana Afghan's rule started service in 2003. The Kabul-based carrier, Kam Air, is now the largest carrier in Afghanistan, serving 20 destinations with a fair amount of service both domestically and internationally. Kam Air's international routes include Kabul to Delhi, Istanbul, Ankara, Islamabad, Dushanbe, Almaty, Mashhad, and Tehran.
Kam Air's fleet is currently the largest in Afghanistan, with the airline operating a fleet of six aircraft consisting of five McDonnell-Douglas MD-80s and one Boeing 767-200ER. Short-term goals for the airline include expanding to destinations such as Jeddah, Kiev and Moscow. Long-term goals include eventually starting flights to Vienna, Toronto, Los Angeles, Washington, and Hangzhou.
Safi Airways
Following the success of Kam Air, another Afghan airline, Safi Airways, launched operations in 2007. Safi currently owns only one aircraft, a Boeing 767-200ER, with the airline commonly leasing aircraft from other carriers. Safi was previously a widebody operator, with the airline flying an Airbus A340 when they were allowed to fly into the EU. However, the airline was banned from flying to Europe and the route was canceled.
While Kam Air has expanded to over a dozen destinations, Safi Airways operates a smaller route map with four domestic and five international destinations. The airline overlaps with either Ariana Afghan or Kam Air on all of their routes. The carrier competes with Ariana in Jeddah, Dubai and Delhi, while competing with Kam Air in Mashhad, Delhi and Islamabad.
Much like Kam Air, Safi has short-term goals to launch more local international routes, including Dushanbe, Mumbai and Tehran, with long-term goals including returning to Europe and starting service to Turkey.
East Horizon Airlines
While these three carriers have come to dominate the international air travel market in Afghanistan, newer carriers have taken advantage of the gap in the Afghan domestic market and found some success there. East Horizon Airlines started operations in 2010, utilizing a three aircraft fleet to fly to eleven destinations within Afghanistan's borders until 2014.
East Horizon operated the smaller Antonov AN-24 and Xian MA60, allowing them to run unopposed service to the towns of Bayman, Kunduz, Sharana, Khost, Farah, and Maymana. East Horizon was also the only carrier whose offices were not in Kabul city limits, opting to start operations out of the western town of Herat.
Although they were based out of Herat, the airline still operated a secondary base in Kabul. Their rapid expansion into weaker markets, however, made the airline difficult to maintain, despite a promising start. Unfortunately, East Horizon Airlines folded in December 2014.
Afghan Jet International Airlines
The smallest and newest Afghan carrier is also an all-domestic operation. Afghan Jet International Airlines currently owns one Bombardier CRJ-200 that they have used since their incarnation in 2012. The airline started by flying to three different routes from their hub in Kabul but has added three additional routes to fill the gap left by East Horizon in 2014.
The Future of Aviation in Afghanistan
Despite years of conflict in the region, the Afghan airline industry has seen a rise in their competitive routes. As a result, flying is easier than ever before for the Afghan people. The domestic aviation profile has changed dramatically, with routes like Kabul-Herat and Kabul-Kandahar, that were previously only served by Ariana Afghan, now seeing competition from as many as four different carriers.
These carriers, however, have also seen their fair share of international pressure. Foreign airlines like Air India, Emirates, FlyDubai, Iran Aseman, Pakistan International Airlines, SpiceJet and Turkish Airways all fly to cities in Afghanistan, competing with the domestic airlines.
While the futures of these Afghan carriers are uncertain, their ability to provide service to the region has made this the golden era for Afghan aviation.

Ian has been an avgeek since 2004 when he started spotting US Airways Express planes at Johnstown Airport in Johnstown, Pennsylvania. He now lives in Wichita and enjoys spotting planes in Kansas City and Wichita as well as those flying at high altitudes over his home. He is a pilot with more than 40 hours of experience behind a Cessna 172, Diamond DA-20, and Piper PA-28. He flies Southwest Airlines on most of his domestic flights and Icelandair when flying to Europe. Ian's route map spans from Iceland and Alaska in the north to St. Maarten in the south. He is a student at Wichita State University, where he will study aerospace and mechanical engineering.

Latest posts by Ian McMurtry (see all)