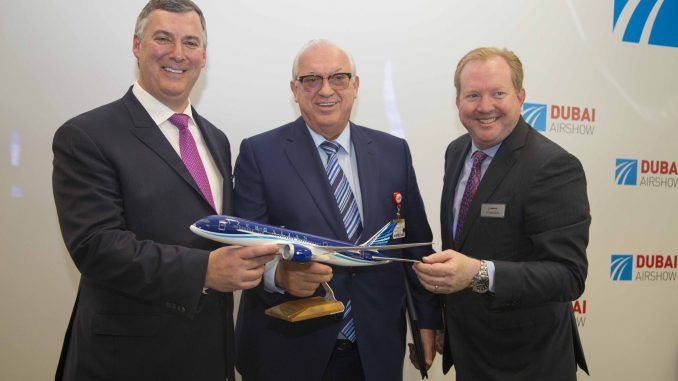 Azerbaijan Airlines has announced the purchase of an additional five Boeing 787-8 aircraft. Announcing the purchase at the 2017 Dubai Airshow, the Baku-based carrier has placed an order for five Boeing 787-8 aircraft alongside two Boeing wide-body freighters. The freighter type has yet to be confirmed.
Kevin McAllister, Boeing's Commercial Airplanes President and Chief Executive, told press at a news conference that a decision would be made at a later date on whether the carrier opts for the 747 or 777 freighter variant.
"We appreciate Azerbaijan Airlines' growing confidence in the Boeing 787 and the airplane's market-leading fuel efficiency and passenger-pleasing features," said Kevin McAllister, President and CEO of Boeing Commercial Airplanes. "The 787 Dreamliner will play a key role in Azerbaijan's fleet modernization plan, help them open new routes, and contribute to their long-term success."
At current list prices, Boeing has indicated that the deal is worth an estimated $1.9 billion. The deal also includes a landing gear maintenance agreement. Azerbaijan will become the launch customer of a new landing gear exchange program for the 787, where the airline is linked with Boeing Global Services to obtain lower cost gear assemblies for the aircraft.
When speaking of the deal, Jahangir Askerov, Azerbaijan Airlines' (AZAL) president, said that "the additional 787s will greatly expand the carrier's capabilities."
The carrier currently operates a fleet of two Boeing 787-8 aircraft alongside a mixed fleet of aircraft including Boeing 757s and 767s. "We are delighted to expand our partnership with The Boeing Company, which has been a reliable partner in supplying modern airplanes, and helping us operate and maintain the jets," he added.
The airline is the flag carrier of Azerbaijan, operating out of Heydar Aliyev International Airport. The airline currently operates services to 40 destinations in 25 countries, serving over two million passengers in 2016. It has not yet been announced when the aircraft are expected to be delivered.
Josh is a long-term aviation enthusiast and aspiring commercial airline pilot. From a young age, he has immersed himself in all things aviation. From plane spotting at local airports and airfield to racking up frequent flier miles on trips abroad, Josh is a huge AvGeek at heart. He graduated from university in September 2017 with a first class Bachelor of Science degree in Air transport. He completed his pilot training, gaining his Frozen ATPL in November 2017 upon completion of his Multi-Engine Instrument rating and Multi-crew/Jet orientation course. He currently has around 230 hours of flying experience in various aircraft. He hopes to join an airline as a first officer by the end of 2017.

He frequently flies on one of his favorite airlines, British Airways, and is an avid Avios collector and British Airways Executive Club member.
In his spare time, while not studying, flying or immersing himself in aviation he enjoys spending his time volunteering in a variety of roles and running a blog to help other aspiring pilots pursue their dream.
Latest posts by Joshua Drabble (see all)