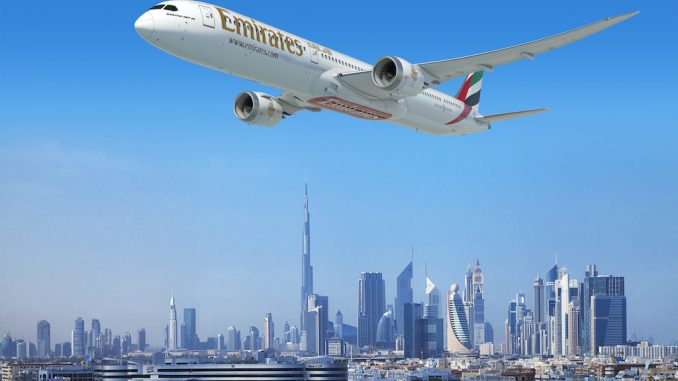 Boeing announced on Sunday that it secured an order worth $15 billion from Gulf carrier Emirates. The deal, consisting of 40 Boeing 787-10 Dreamliner aircraft, was the first big sales news to be announced at the Dubai Airshow, which kicks off on Sunday.
The latest announcement brings the total wide-body commitment with Boeing up to 204 aircraft. The agreement was signed on the opening day of the 2017 Dubai Airshow, in front of his Highness Sheikh Mohammed bin Rashid Al Maktoum, Vice President and Prime Minister of the United Arab Emirates, and Ruler of Dubai and HH Sheikh Ahmed bin Saeed Al Maktoum, Chairman and Chief Executive of Emirates airline. Kevin McAllister, Boeing Commercial Airplanes President and CEO, was also present.
When speaking on the announcement, Sheikh Ahmed said, "Emirates orders today will be delivered from 2022, taking the airline well into the 2030s. Some of these will be replacements so that we maintain a young and efficient fleet, and others will power our future network growth."
"We see the 787 as a great complement to our 777 and A380 fleet, providing us with more flexibility to serve a range of destinations as we develop our global route network," he added. The agreement also includes conversion rights to switch the aircraft to 787-9s, allowing the airline further flexibility for its future fleet and network expansion. The airline has yet to decide which engine manufacturer will supply powerplants for its Dreamliner order.
Boeing CEO, Kevin McAllister also spoke of the substantial deal: "We are excited that Emirates has selected the Boeing 787-10 Dreamliner to power its fleet expansion and future growth. This is an airplane that will set a new benchmark for operating economics in the commercial aviation industry when it enters service next year."
Emirates will operate the aircraft in a mix of two and three cabin class configurations, seating between 240 and 330 passengers. The airline is expected to take delivery from 2022 onwards.
This is not the first significant deal with Boeing for the Gulf carrier. Four years ago, at the 2013 Dubai Airshow, Emirates made history by signing an agreement to purchase 150 Boeing 777X aircraft with GE9X engines. These aircraft are due for delivery from 2020 onwards.
Emirates is already the largest operator of the Boeing 777, with 165 of the aircraft in service. The aircraft is a key part of the airline's fleet and business model, with a fresh new first class cabin also being announced for the aircraft at the 2017 Dubai Airshow. The new cabins, combined with the eventual arrival of the latest, most modern and fuel-efficient aircraft will undoubtedly be a huge hit for both Emirates and its customers.
Josh is a long-term aviation enthusiast and aspiring commercial airline pilot. From a young age, he has immersed himself in all things aviation. From plane spotting at local airports and airfield to racking up frequent flier miles on trips abroad, Josh is a huge AvGeek at heart. He graduated from university in September 2017 with a first class Bachelor of Science degree in Air transport. He completed his pilot training, gaining his Frozen ATPL in November 2017 upon completion of his Multi-Engine Instrument rating and Multi-crew/Jet orientation course. He currently has around 230 hours of flying experience in various aircraft. He hopes to join an airline as a first officer by the end of 2017.

He frequently flies on one of his favorite airlines, British Airways, and is an avid Avios collector and British Airways Executive Club member.
In his spare time, while not studying, flying or immersing himself in aviation he enjoys spending his time volunteering in a variety of roles and running a blog to help other aspiring pilots pursue their dream.
Latest posts by Joshua Drabble (see all)