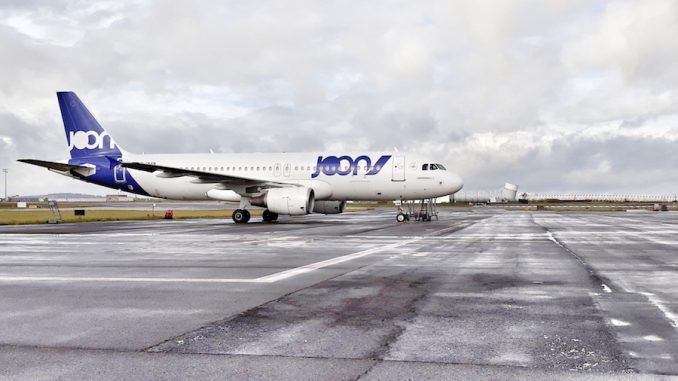 The first aircraft for Air France's low-cost airline Joon has rolled out of the paint shop. The airline's first A320, the first of five, emerged in new colors last week at Paris' Charles de Gaulle airport. The new airline, announced by Air France earlier this year, was officially launched in September with the aim of attracting millennials.
Air France describes Joon as a hybrid between a traditional airline and a low-cost carrier, with the aim of competing with other budget airlines such as Norweigan, Iceland's Wow Air, and IAG's Level.
The airline is set to be based out of Charles de Gaulle airport and officially kicks off services on Dec. 1, 2017. The airline will initially operate services to Berlin, Lisbon, Porto, and Barcelona. Joon is also set to receive Airbus A340-300 aircraft from its parent airline Air France. It expects to operate these aircraft on flights to Fortaleza, Brazil and Mahé in the Seychelles from May 2018.
Fares are set to start at €39 / $46 for a one way ticket to its European destinations, with long-haul destinations starting at €249 / $293 for a one way ticket. In time the airline expects to operate a mixture of A320, A321, A340, and A350 aircraft with its crews being selected from Air France.
Josh is a long-term aviation enthusiast and aspiring commercial airline pilot. From a young age, he has immersed himself in all things aviation. From plane spotting at local airports and airfield to racking up frequent flier miles on trips abroad, Josh is a huge AvGeek at heart. He graduated from university in September 2017 with a first class Bachelor of Science degree in Air transport. He completed his pilot training, gaining his Frozen ATPL in November 2017 upon completion of his Multi-Engine Instrument rating and Multi-crew/Jet orientation course. He currently has around 230 hours of flying experience in various aircraft. He hopes to join an airline as a first officer by the end of 2017.

He frequently flies on one of his favorite airlines, British Airways, and is an avid Avios collector and British Airways Executive Club member.
In his spare time, while not studying, flying or immersing himself in aviation he enjoys spending his time volunteering in a variety of roles and running a blog to help other aspiring pilots pursue their dream.
Latest posts by Joshua Drabble (see all)