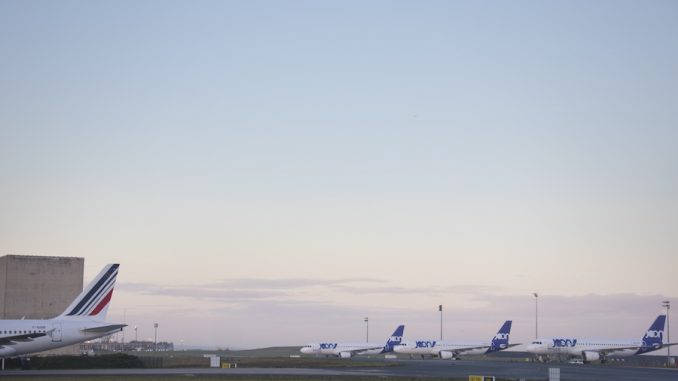 Millennial-focused airline Joon began operations on Friday from Paris Charles de Gaulle airport. The brainchild of Air France/KLM, Joon is geared towards the always-connected younger flyer with power available at every seat and free Wi-Fi coming next year.
Joon begins their baobab juice powered operations with a fleet of Airbus A320s and A321s. These aircraft will be deployed on several routes to some of the hipper locations throughout Europe. Barcelona, Spain will see 51 weekly flights and Berlin will see 37 weekly flights.
Rounding up the initial route map will be flights to two cities in Portugal, Lisbon, and Porto. Lisbon will see 28 weekly flights and Porto just three weekly flights.
2018 Route Expansions
From March to May of 2018 the airline will expand their network further as follows:
March Expansion:
Cairo, Egypt- 7 weekly flights
Istanbul, Turkey – 7 weekly flights
Naples, Italy – 14 weekly flights
Oslo, Norway- 18 weekly flights
Rome, Italy- 49 weekly flights
April Expansion:
Cape Town, South Africa- 3 weekly flights
Tehran, Iran- 3 weekly flights
May Expansion:
Fortaleza, Brazil- 2 weekly flights
The long-haul routes will be flown by Airbus A340s and will eventually be phased out and replaced with Airbus A350 aircraft in 2019.
Except for the European destinations, the intercontinental destinations are unusual picks. Many of these destinations will not necessarily be new routes but instead will be replacements of existing flights currently operated by Air France.
Joon's Puzzling Existence
This leads to further confusion as to what Joon really is. Is the airline a low-cost alternative to Air France or is it a completely new brand for the younger flyer? It's a bit of both, with one executive stating that the airline is a lab for experiments in marketing and pricing.
While attempting to appeal to the younger crowd by offering organic snacks and free Wi-Fi onboard, Air France/KLM is operating the airline at a slightly lower cost than it would for its own aircraft.
Though pilots for Joon are being paid at the same as at Air France, cabin crew costs will decrease by as much as 40 percent allowing the airline to reduce overall expenses by 18 percent.
This is likely the best Air France could get out of the unions after a failed attempt at transitioning short-haul and domestic service to the company's low-cost and lower paid Dutch subsidiary, Transavia. That attempt last year ended up with pilots going on strike to protest the low wages for Transavia.
Since Joon is replacing some existing Air France routes it leads one to believe that the more important goal of the airline is to cut costs on highly competitive or low yield routes with the millennial appeal playing a secondary role.
Willie Walsh, CEO of IAG, aptly described Joon as a "hybrid" airline rather than a "very low-cost operation."

Hemal took his first flight at four years old and has been an avgeek since then. When he isn't working as an analyst he's frequently found outside watching planes fly overhead or flying in them. His favorite plane is the 747-8i which Lufthansa thankfully flies to EWR allowing for some great spotting. He firmly believes that the best way to fly between JFK and BOS is via DFW and is always willing to go for that extra elite qualifying mile.

Latest posts by Hemal Gosai (see all)