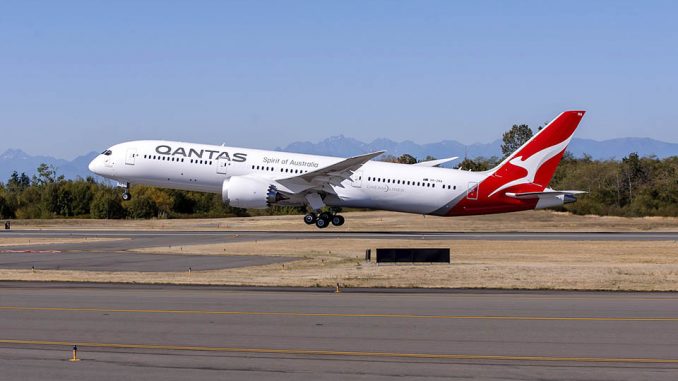 Qantas Airways has been busy with their new Boeing 787-9 Dreamliner. First, the airline announced the name for their new Boeing 787-9 Dreamliner. Then, Qantas announced that they will be adding an additional flight from Melbourne to Los Angeles and adding a new route to their network, Melbourne to San Francisco, with both of the new flights utilizing the 787-9 aircraft.
The Australia-based airline took delivery of their second 787-9, named "Waltzing Matilda." on Dec. 15. Qantas says the name was chosen from the 45,000 Dreamliner name suggestions they received from the public. The new aircraft will allow the carrier to begin long-haul international service with their 787-9 fleet, as the aircraft was intended to do.
"The name of this aircraft will be seen by thousands of people a year when it pulls up at the airport gates around the world," said Qantas International CEO Alison Webster. "For Australians, it's a familiar touch of home. For some of our customers flying overseas, there will probably be some googling to find out what it means."
The newly-delivered aircraft will embark on the first flight of Qantas' Dreamliner fleet from Australia to Los Angeles, a service currently dominated by quad-engine aircraft. The airline currently flies the 14-hour flight from Melbourne to Los Angeles with the Airbus A380, the airline's current largest passenger aircraft.
"The Melbourne-Los Angeles flight was the first international service that we put our very first Airbus A380 on in 2008, so there's a nice symmetry with this being the first for our Dreamliner as well," said Webster.
The 236 seat Dreamliner will operate six days a week between Melbourne and Los Angeles.
Qantas also announced new nonstop service from Melbourne to San Francisco starting late 2018. The Dreamliner fleet with alternate flying between the two California cities; Los Angeles some days, San Francisco the other days.
"A significant number of our Melbourne passengers flying to Los Angeles already have to connect on to San Francisco. We also see strong demand from San Francisco, both from a tourism perspective and because of the business links between Melbourne and Silicon Valley," said Webster.
Qantas has received two of its eight ordered 787-9's. The carriers third and fourth aircraft are expected to be delivered early 2018. All eight Dreamliner's are expected to be delivered by the end of 2018. Four 787-9's will be based in Melbourne while the remaining four will be based in Brisbane.
The new routes show that Qantas is committed to connecting the United States with the land down under.
Matthew Garcia became interested in aviation at the age of 12 when he installed Microsoft Flight Simulator X on his computer. He was instantly "bitten by the bug" and has been in love with aviation ever since. Matthew took his first introductory flight in 2013 and began normal flight training in February of 2015. Over the years, Matthew's love and knowledge for aviation has grown tremendously, mainly due to FSX. Garcia flies highly advanced aircraft in a professional manner on a highly complex virtual air traffic network simulating real world flying. In 2016 Matthew achieved his private pilot certificate from the FAA. Now he studies journalism at the University of Nebraska at Omaha.
Latest posts by Matthew Garcia (see all)