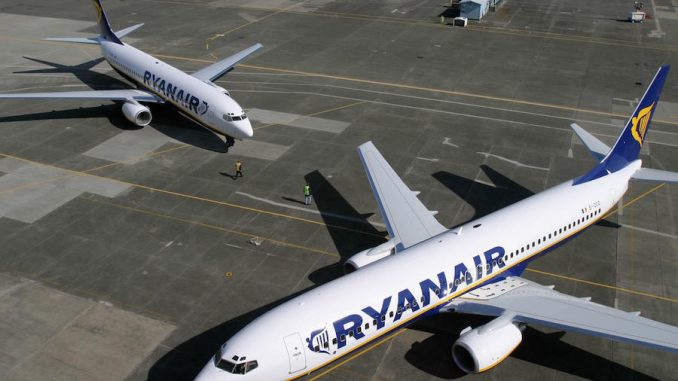 Ryanair has narrowly avoided disruption to its services after its pilots called off a pre-Christmas strike.  On Sunday, the airline's pilots called off a planned strike after the Irish carrier's management agreed to recognize the trade union "Impact" who is acting at the pilot's representatives.
The union announced that the pilots planned strike on Wednesday had been cancelled, with pilots now expected to meet with the airline's management on Tuesday evening. The planned strikes would have significantly affected the airline's Dublin operations, with its Dublin based directly employed pilots originally planning to stop work on December 20. Directly employed pilots make up 28 percent of Ryanair's Dublin based pilots, with the remainder being employed by third-party agencies.
The decision comes after a response from Ryanair last week, in which the airline agreed to recognize unions in spite of airline boss Michael O'Leary previously saying he would only recognize such bodies when "hell freezes over."
The Impact Union, who is representing the pilots, published a statement in which it acknowledged the "Principal determination of Ryanair pilots" who had made this breakthrough possible and that it "looked forward to establishing a positive relationship with Ryanair company management."
The airline has asked however that the unions establish "committees of Ryanair pilots to deal with Ryanair issues" as the airline does not intend to engage with pilots who fly for other competitor airlines, citing that the IALPA union which is represented by IMPACT consists of predominantly Aer Lingus Pilots, with the threat of action being used as a measure for union recognition.
The cancellation of the intended strike action will be good news for passengers, with many preparing to fly home for the festive period. The airline has already seen significant disruption to its services this year, after issues with pilot scheduling and cabin crew revolts saw thousands of flights cancelled. The airline was also voted worst European airline alongside Spanish carrier Vueling, in a survey done by Which?. The survey looked at passenger satisfaction and Ryanair scored last out of 20 airlines.
Despite this year's calamities, the airline is still on target for a record-breaking year. Ryanair carried 9.3 million people in November, up 6 percent from the same period last year and it is predicted to carry 140 million passengers total this year, up from 117 million last year.
Josh is a long-term aviation enthusiast and aspiring commercial airline pilot. From a young age, he has immersed himself in all things aviation. From plane spotting at local airports and airfield to racking up frequent flier miles on trips abroad, Josh is a huge AvGeek at heart. He graduated from university in September 2017 with a first class Bachelor of Science degree in Air transport. He completed his pilot training, gaining his Frozen ATPL in November 2017 upon completion of his Multi-Engine Instrument rating and Multi-crew/Jet orientation course. He currently has around 230 hours of flying experience in various aircraft. He hopes to join an airline as a first officer by the end of 2017.

He frequently flies on one of his favorite airlines, British Airways, and is an avid Avios collector and British Airways Executive Club member.
In his spare time, while not studying, flying or immersing himself in aviation he enjoys spending his time volunteering in a variety of roles and running a blog to help other aspiring pilots pursue their dream.
Latest posts by Joshua Drabble (see all)