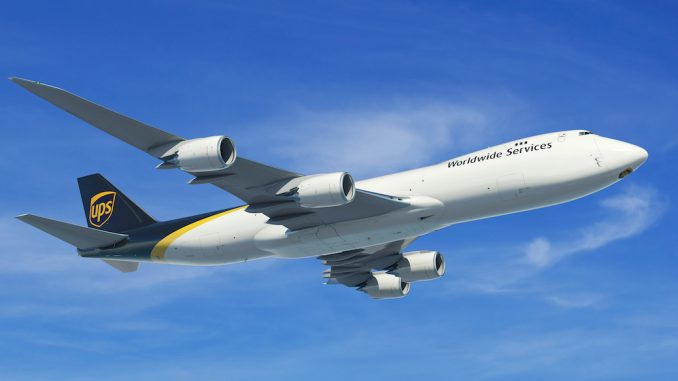 UPS confirmed an order for 14 more Boeing 747-8 freighters breathing new life into the otherwise stagnant jumbo aircraft program. While passenger service using this iconic aircraft is decreasing, the use of the 747 in the cargo world grows a bit more.
Orders for the Boeing passenger aircraft have been far and few with all 47 passenger variants already delivered to respective customers such as Lufthansa, Korean Air, and Air China.
With the exception of one aircraft that has yet to be delivered to an unidentified customer, all remaining 747s that roll off the assembly line will go to UPS.
In 2016, the shipping giant ordered 14 freighter variants. Since then there has been much speculation over the future of jumbo aircraft. Boeing's main competitor Airbus was recently thrown a lifeline by Emirates with the purchase of 20 Airbus A380s and an option to buy 16 more.
If it were not for that sale the curtains would've been drawn on the aircraft earlier than most expected.
Boeing is in a similar situation with the 747. As airlines are shifting towards mid-size medium range aircraft and new twin-engine jets the desire for high capacity jumbo aircraft is declining.
The proof of this can be seen in the success of aircraft such as the Airbus A320neoLR which is taking the place of the now discontinued Boeing 757 aircraft and has pressured Boeing to begin discussions about building a 757 replacement.
While the transport of passengers in the aviation industry is trending away from jumbos, an increase in global trade and growth has resulted in increased demand in the air freight market.
Adding bigger planes is part of the overall UPS strategy to boost capacity and efficiency on regional and long-distance routes.
UPS plans to use them to take full advantage of the growing cargo demand in Asia to Europe and North America. These freighters will contribute much-needed shipping capacity to UPS as it and other freight carriers move to upscale operations.
The UPS sale will mean that Boeing can continue producing the 747 for the next several years at a rate of six jets annually. No domestic commercial passenger-carrying airline in the U.S. operates the 747 anymore but the airplane will continue to fly until at least the middle of the century through foreign operators and freight operations such as UPS.

Hemal took his first flight at four years old and has been an avgeek since then. When he isn't working as an analyst he's frequently found outside watching planes fly overhead or flying in them. His favorite plane is the 747-8i which Lufthansa thankfully flies to EWR allowing for some great spotting. He firmly believes that the best way to fly between JFK and BOS is via DFW and is always willing to go for that extra elite qualifying mile.

Latest posts by Hemal Gosai (see all)