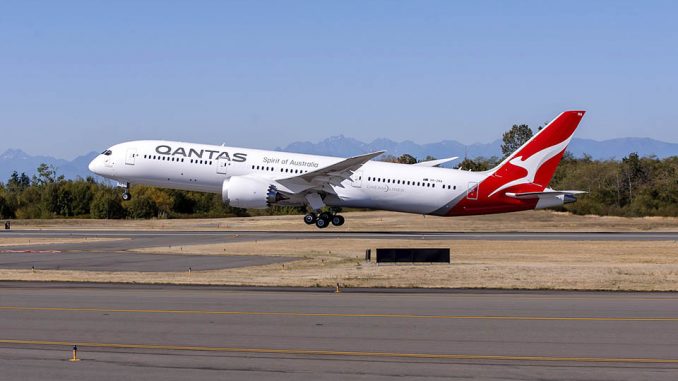 Qantas Airways has made the decision to let one of its 15 Boeing 787-9 options expire in February. This decision comes after heavy promotion for the aircraft, with Qantas announcing service between San Francisco and Melbourne using the aircraft, and also promoting its third Boeing 787-9, naming it "Quokka." A decision on the rest of their orders will be made in a few months.
According to Reuters, the Australian flag carrier is looking to expand its international routes but is being "judicious about capital spending at it boosts returns to investors." Qantas CEO Alan Joyce stated that the company was reviewing their orders of 787s and discussing if they should add additional orders to the eight orders already placed.
Joyce also said the airline is currently looking at potentially ordering Airbus A321neos for Jetstar, which is low-cost carrier wholly owned by Qantas. Currently, Jetstar has 99 A320neos on order. The parent company could possibly switch those orders to the A321neo due to the increased range and seating capacity that the larger aircraft offers.
Alan Joyce told Reuters, "We balance up what are the relative business cases between Jetstar, between Qantas International, Qantas Domestic and Loyalty and figure out given our limited resources of capital what is the best business case to invest the capital in."
Reuters states by ordering long range A321neos, Jetstar and Qantas can focus their 787 fleet on larger markets.
Matthew Garcia became interested in aviation at the age of 12 when he installed Microsoft Flight Simulator X on his computer. He was instantly "bitten by the bug" and has been in love with aviation ever since. Matthew took his first introductory flight in 2013 and began normal flight training in February of 2015. Over the years, Matthew's love and knowledge for aviation has grown tremendously, mainly due to FSX. Garcia flies highly advanced aircraft in a professional manner on a highly complex virtual air traffic network simulating real world flying. In 2016 Matthew achieved his private pilot certificate from the FAA. Now he studies journalism at the University of Nebraska at Omaha.
Latest posts by Matthew Garcia (see all)