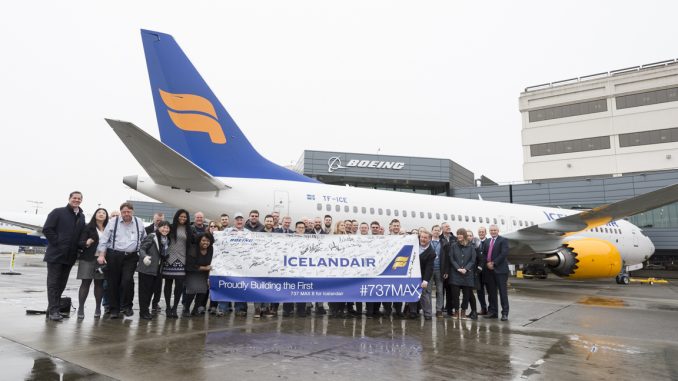 In an exciting day for Boeing, the aircraft manufacturing giant has delivered yet another Boeing 737 MAX 8 aircraft on Wednesday at Boeing Field, this time to Icelandair. A largely-followed delivery among aviation enthusiasts eager to see Icelandair's newest aircraft, this is Icelandair's first of three MAX aircraft that will be delivered this year, as part of a larger order of 16 MAX aircraft that will be delivered from now until 2021.
Icelandair and Boeing executives were on hand at Boeing Field for the ceremonial ribbing cutting ceremony, as both companies celebrate a new era in their 70-year partnership. The delivery comes hours after Boeing delivered the first 737 MAX 8 to Aeromexico, the first of up to 90 for the Mexican airline. Both Aeromexico and Icelandair have one thing in common, a fierce loyalty to Boeing which is shown in their all-Boeing fleets.
As AirlineGeeks previously reported last week when the aircraft first made its appearances wearing the Icelandair livery at Boeing Field, the newest addition to Icelandair's fleet will have its seats installed and receive the final touches to its tail once it arrives in Iceland. The aircraft, aptly registered as TF-ICE, will be staying in the Puget Sound area for a week or so for pilot training purposes before making the trek to its home in Iceland.
The lack of the name on the tail may be part of an updated livery, as Icelandair confirmed that changes such as a lighter color palette and a grey belly have been added on the MAX as part of a new livery which will represent Icelandair in the new decade, departing from the already iconic livery seen on the 757 and 767 fleets.
While many are speculating, and Icelandair also seriously hinting, that the iconic "Icelandair" name will be affixed to the tail once the plane is in Iceland, numerous graphics and signage at the delivery ceremony at Boeing Field show the aircraft without the name on the tail. To add to the speculation, the airline also highlighted a "cleaner tail design," will leave people wondering whether the lack of the name is part of that cleaner design.
However, with Icelandair keeping all further information close to its chest, all answers will be revealed on April 6 when the MAX will perform its first revenue flight for Icelandair from Reykjavik to Berlin, replacing the Boeing 757-200 on the route between the two capital cities. Afterwards, its scheduled to fly the Reykjavik to Paris-Orly and Bergen route from May 1, then open new service to Cleveland and Dublin later that month.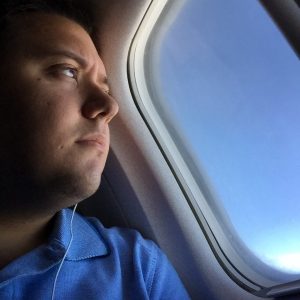 Tom has been flying for as long as he can remember. His first flight memory was on a Song Airlines 757 flying from LaGuardia to Orlando. Back then, he was afraid to fly because he thought you needed to jump off the plane in order to get off. Some years later, Tom is now a seasoned traveler, often flying to places just for the fun of it. Most of the time, he'll never leave the airport on his trips. If he's not at home or at work as a Line Service Technician at Long Island MacArthur Airport, he's off flying somewhere, but only for the day.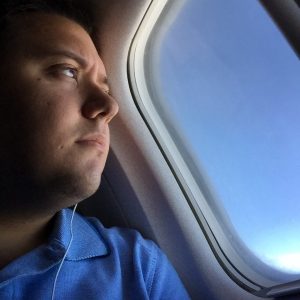 Latest posts by Thomas Pallini (see all)