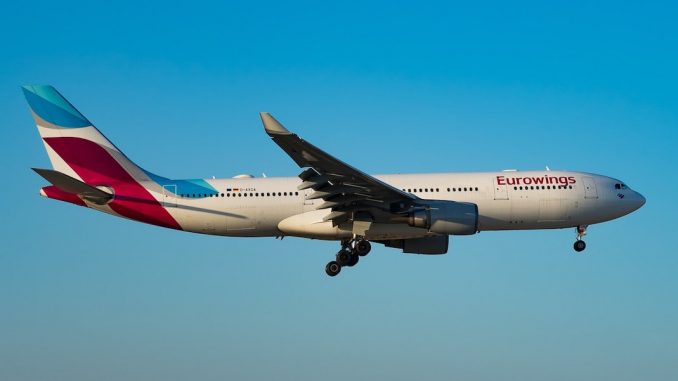 Passengers travelling from Germany to the Dominican Republic in early February expected to fly with Eurowings since they had booked with the Lufthansa subsidiary. They were in for a surprise when their flight was called for boarding. While it was indeed an Airbus A330-200 aircraft that was standing at the gate, it did not sport the Eurowings livery, but was plain white.
It turned out to be an aircraft of British company Air Tanker with the identification G-VYGL. Air Tanker is, however, not a normal charter airline. It specializes as a service provider to the Royal British Air Force – and it appears its service is also closer to military grade than it is to commercial airliners.
Eurowings continues to have significant difficulties with providing enough seats and aircraft to service all of its routes, particularly on its long-haul service. Eurowings' own aggressive expansion paired with the additional load it has been taking on since Air Berlin and Niki went bankrupt last Fall place demand for seats sold well above the number of seats available on Eurowings aircraft.
It has therefore resorted to chartering external aircraft to help it move passengers. While these usually turn out to be aircraft of German tourism operators TUIfly and Sunwings, it appears that even that isn't enough. Enter Air Tanker.
Air Tanker's only scheduled flight goes from the United Kingdom to the Ascension Island in the south Atlantic Ocean. From Ascension, troops are deployed to the Falkland Islands, which continue to be disputed territory between Argentina and the British. Its other services are focused on air-to-air refueling of fighter jets.
One of Air Tanker's Airbus A330-200 has a capacity of 291 seats in a single class layout, well above what Air Berlin or Brussels Airlines fit into their aircraft of the same type. This is understandable when it comes to moving troops in and out of territories across the globe, but obviously does not satisfy the needs of holidayers, especially when they booked a more roomy business class recliner seat in Eurowings' "best" class.
Heinz Lüthi of Switzerland was one of the unlucky passengers who had to travel on the plane. He had booked a "best" seat with Eurowings. "I'm 6'2 and I weigh 250 pounds. If I have to squeeze myself into an economy class seat, I get severe back pain. On the flight from Punta Cana to Cologne we were forced to fly with this high-density economy class only plane," Lüthi told Blick. "It was awful," he added.
Eurowings has since apologized for the aircraft switch: "We are working expeditiously on transitioning product and livery to Eurowings as soon as possible" a written statement by a company spokesperson read.
However, the leasing agreement with Air Tanker that was originally set to end on March 8 has apparently been extended. Eurowings still lists the A330 as the type of aircraft of choice to service the route from Cologne to Punta Cana until the end of March. More passengers may, therefore, have to experience "military class" instead of business class.
Adrian joined AirlineGeeks as a writer in 2017. He had always wanted to become a pilot and while he chose a different career path for now, his interest in aviation continues to grow every day. Adrian was fortunate to travel extensively for business in the past five years. As a result, he focuses his research and writing on passenger services and experiences on a variety of airlines. His favorite aircraft include the Airbus A350, A380, and the Embraer passenger jets.
Latest posts by Adrian Vannahme (see all)