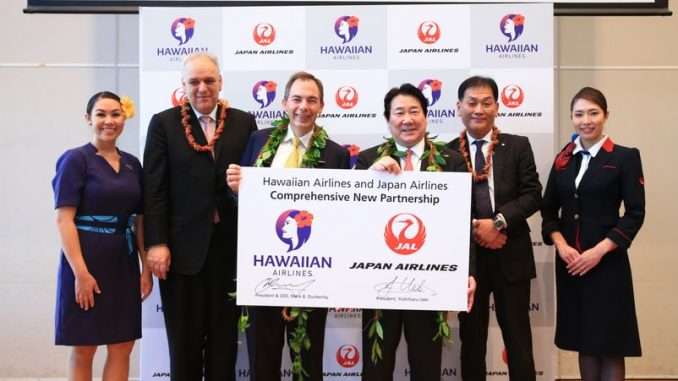 On Thursday, Hawaiian Airlines announced that they had begun sales of tickets for codeshare flights with its newest codeshare partner Japan Airlines, also known simply as JAL, which will commence three days later on Mar. 25.
"We're excited to extend our reach in Japan and welcome new guests onboard Hawaiian so they may experience our hospitality and the unique charm of our islands," said Peter Ingram, president and CEO, Hawaiian Airlines. "We're also thrilled to offer Hawaii residents the ability to earn HawaiianMiles while traveling to popular cities beyond our gateways including Fukuoka, Nagoya and Okinawa."
Famously, the Hawaiian islands are a midway point between North America and Asia, including Japan. Ships sailing the Pacific would use Hawaii as one of many stepping stones on their way to Japan or back home to the United States. With a high Japanese population and a popular vacationing spot for Japanese tourists, the codeshare agreement exemplifies the Japanese-Hawaiian bond.
"We look forward to providing a seamless customer experience through this partnership with Hawaiian Airlines. As we embrace the challenge to deliver convenient travel options to our mutual customers, this is just the start of a successful relationship we envision with Hawaiian," said Yoshiharu Ueki, president, Japan Airlines.
The partnership will include access to 36 domestic and 11 international destinations within Japan Airlines' network, pending government approval, and all Japan-Hawaii flights, in addition to Hawaiian's intra-island network, which includes about 170 daily flights.
Also, passengers will be able to earn both HawaiianMiles and JAL Mileage Bank credits on codeshare flights. The two airlines will share lounge benefits, and Hawaiian is set to be relocated adjacent to JAL at Tokyo Narita Airport to further connections.
Looking forward, JAL and Hawaiian intend on creating a joint venture through an antitrust immunity agreement and plan on filing their venture with the U.S. Department of Transportation and Japanese authorities in April, according to Hawaiian Airlines.
Ashley is currently a senior in high school and plans on pursuing a career in aviation or journalism. Her favorite airplanes include the Boeing 777, 737MAX, and Airbus A350. She enjoys taking flights on various airlines to different airports and planespotting at her local airports.
Latest posts by Ashley Magoon (see all)