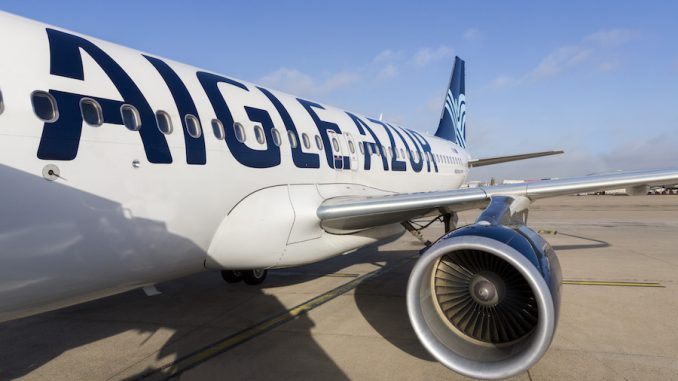 The French airline Aigle Azur announced changes to their route network along with the addition of new airline partnerships and long-haul flights, in the ongoing effort for profitability. These changes come following a major shareholder and management shake-up in 2017, according to Reuters. 
The airline began expanding its route map in 2017, adding numerous destinations including Beirut, Berlin and Moscow from Paris, but that was only the start of the airline's expansion plans. Aigle Azur introduced a seasonal flight from Marseille to Beirut last year and has announced the opening of a new daily route from their hub at Paris-Orly to Milan, along with the Berlin flights switching to a daily service as well.
The airline will be starting long-haul operations in June 2018, the newest step in its expansion. Flights between Paris and Beijing will operate on a three-times-weekly basis starting June 21. Less than a month later, the airline will begin operating flights to Sao Paulo, also on a three-times-weekly basis, upgrading to five-times-weekly starting in September.
Currently operating the Airbus A319 and A320 aircraft solely, the introduction of a new type to the fleet is necessary for the long-haul routes to be operated. According to the airline, they will take delivery of two Airbus A330-200 aircraft in mid-April. These aircraft will be added to the fleet of 10 aircraft that the airline currently operates, bringing the fleet total to 12 aircraft. Along with the two long-haul flights, the A330s will also serve add capacity on flights to cities such as Bamako, Mali and Algiers, Algeria.
The new wide-body aircraft will feature a two-class layout including a new business class product.The new business cabin for the airline will feature full lie-flat seats along with a state of the art video on demand entertainment system. The new in-flight entertainment system will also be featured in the economy cabin.
Aigle Azur also announced a new commercial and strategic partnership with Air Caraibes, one of the major airline players in the Caribbean, especially in the French Caribbean including Haiti, Guadeloupe and Martinique. The partnership includes codesharing on flights, leading to a more interconnected route map between the two airlines. This partnership adds to the list of partner airlines, listed as "allies" by Azur, that include China's Hainan Airlines and Brazil's Azul Linhas Aereas.
Frantz Yvelin, president of Aigle Azur, remarked on the exciting times for the airline, saying, "The unprecedented accomplishments announced today reflect what I have always strived to achieve from the beginning: to ensure that the entrepreneurial culture, that is very dear to me, is part of a path designed over 70 years ago, in the true pioneering spriting of Aigle Azur."
Jace has been working at AirlineGeeks for nearly three years. Born in Seattle, Boeing and aviation quickly took over his life and he never stopped looking up. Jace enjoys plane spotting and taking trips just so he can fly. He is currently studying at Embry-Riddle Aeronautical University while earning his Bachelors of Science in Air Traffic Management.
Latest posts by Jace Moseley (see all)