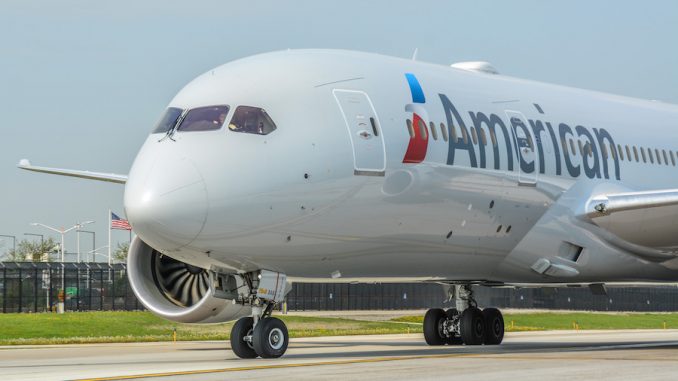 American Airlines and Boeing announced an order for 47 Boeing 787 Dreamliner aircraft on Friday evening. This most recent order by American will more than double the fleet of Dreamliners that the Fort Worth-based airline currently operates.
It will also make American one of the largest operators of the 787 series in the world, pushing their fleet total, including airplanes still to be delivered to 89.
The order includes 22 787-8 and 25 787-9 aircraft. The 787-8 model will start to be delivered in 2020 and the 787-9 are currently scheduled for deliveries in 2023.
The newly-ordered Dreamliner aircraft will stand as replacement aircraft for the airline's fleet of aging Boeing 767 and older 777-200 aircraft used on the airline's medium and long-haul routes. They will also replace the airline's Airbus A330-300 fleet, acquired from the merger with US Airways which operated the type on its international routes.
The smaller 787-8 variant will be the direct replacement for the 767s with the larger 787-9 replacing the larger 777s and A330s.
This order comes just weeks after the airline had announced they were in the market for new long-haul aircraft and that they would not be purchasing additional A330s. The airline also announced the cancellation of its order of 22 A350 aircraft which had originally been placed by US Airways, a large user of Airbus aircraft, before the merger.
"Today's announcement is influenced by our goal to simplify our fleet and reduce the number of aircraft types we operate. Our prior plan would have had us operating five widebody aircraft types, and with today's announcement, we will soon reduce that to three," Chief Financial Officer Derek Kerr said. "These new replacement aircraft are consistent with our previous plans for the size of our widebody fleet."
Along with the new orders, the airline also reached an agreement to defer the delivery of 40 737 MAX aircraft. These aircraft were currently scheduled for delivery between 2020 and 2022. The delayed delivery will better align with fleet replacement due to the retirement of other narrow-body types.
Jace has been working at AirlineGeeks for nearly three years. Born in Seattle, Boeing and aviation quickly took over his life and he never stopped looking up. Jace enjoys plane spotting and taking trips just so he can fly. He is currently studying at Embry-Riddle Aeronautical University while earning his Bachelors of Science in Air Traffic Management.
Latest posts by Jace Moseley (see all)