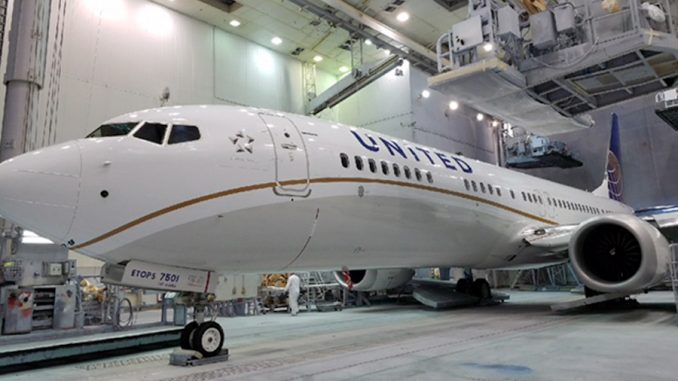 United's first 737 MAX 9 made its initial appearance in full paint on Friday evening. The aircraft, which is due to start service on June 7, sported a different livery compared to its 737 counterparts.
The 737 MAX 9 mirrors the livery on the carrier's 787 aircraft, which is slightly modified to follow the lines on Boeing's house colors. It is unclear why United chose the 737 MAX 9 to appear in this paint scheme as the airline's newer 777-300ERs wear the standard livery.
A photo of the carrier's first MAX aircraft was sent in an internal memo to employees. A United spokesperson was not immediately available to comment on the jet's refreshed paint scheme.
United's 'globe' livery isn't the most popular, especially after it overtook the iconic 'tulip' design during the United and Continental merger in 2010. The so-called 'tulip,' which appeared in three separate liveries, was introduced in the 1970s. United commissioned esteemed-designer Saul Bass who came up with the pre-merger logo.
When United took delivery of its first Boeing 787 Dreamliner in 2012, the aircraft wore a modified version of the 'globe' design, and the rest of the airline's Dreamliner fleet followed suit. United currently maintains a fleet of 37 787 Dreamliner jets.
As for United's 737 MAX 9, the airline plans to launch it on June 7 from Houston's George Bush Intercontinental Airport (IAH). Nine destinations have been announced thus far for the 737 MAX 9 on a mix of short to medium range routes. On June 7, the aircraft is slated to operate five routes, including flights from Houston-IAH to Anchorage, Austin, Ft. Lauderdale, Orlando, and San Diego.
The aircraft will see 179 seats onboard and will feature United First, Economy Plus, and Economy cabins. The aircraft will have inflight Wi-Fi and in-seat power along with personal entertainment options.
The 737 MAX 9 will join United's fleet of 737-700, 737-800, and 737-900ER aircraft. In total, United has 135 737 MAX aircraft on order, according to Boeing's website.
Ryan founded AirlineGeeks.com back in February 2013 (actually, it was called Aviation Official, but we've changed a bit since then). From being on the yoke of a Piper Navajo, to visiting about Delta's operations center in Atlanta, Ryan has done it all. in 2016, along with American Airlines, Ryan masterminded AAviationDay at more than 10 locations around the world. The smell of jet fumes in the morning along with the countless number of passionate airline employees keep him enthralled in the industry, always seeking more. You can find him helping out travelers at Reagan National Airport near Washington, D.C. when he's not doing something for AirlineGeeks.
Latest posts by Ryan Ewing (see all)