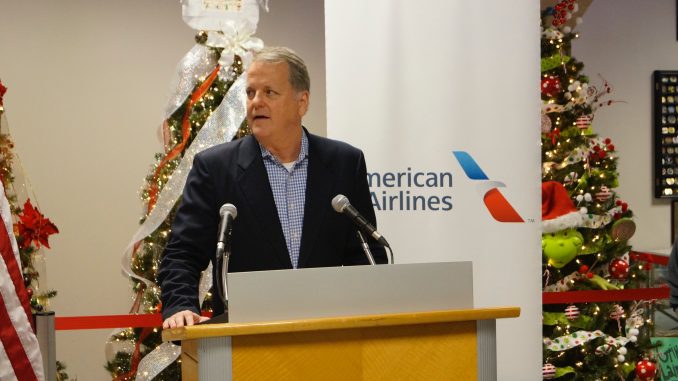 Facing numerous challenges and opportunities, leaders of airlines oftentimes come from different backgrounds. Some may rise through the ranks of the airlines while some may be pulled from other industries. These varying backgrounds also impact how each airline leader handles the challenges and opportunities that their respective airline faces. Over the next few weeks, we will take an in-depth look to see how leaders of some of the world's largest airlines got to where they are today, what challenges they face, and how their leadership style impacts the day-to-day operations of the airline.
Oscar Munoz – President and Chief Executive Officer, United Airlines
Introduction
Appointed as President and CEO in September 2015, Oscar Munoz brings a wide variety of experience to United. He had previously served as the President and CEO of CSX Corporation, a North American real estate and railroad corporation. At CSX, Munoz was credited for transforming the company into an industry leader, increasing CSX's operating income by nearly 600 percent.
Before that, Munoz held the position of Chief Financial Officer and Vice President of Consumer Services at AT&T and also held various senior-level finance positions at Coca-Cola and PepsiCo. Munoz received a business degree from the University of Southern California and an MBA from Pepperdine University.
Impact
When Munoz assumed his current position at United, the airline was facing many issues. The airline was plagued with bitter union disputes, bankruptcy issues, a bumpy merger with Continental Airlines, and a CEO wrapped up in anti-trust lawsuits.
With these issues came tanking stock prices, customer complaints, and a reputation for bad customer service.
Within his first few days on the job, Munoz set a precedent to actually listen to his employees. He went around to business units and various stations within the airline's system to simply listen. Munoz also created UnitedAirtime.com to receive customer and employee feedback. By simply allowing his employees to vent, Munoz saw a steep increase in employee morale at United.
Additionally, new union negotiations were taking place and the airline was receiving new aircraft and starting new services to Asia.
However, Munoz's ability to listen wasn't the only thing that impressed his employees. It was his dedication to putting that feedback to action.
Towards the end of 2015, Munoz suffered a heart attack, despite maintaining a vegan diet and healthy workout regimen. Two months after his heart attack and a heart transplant surgery, Munoz was back to work.
He led the airline in posting its best on-time performance in company history, redesigning company uniforms, bringing snacks back to economy, introducing new classes of service, such as Polaris and Basic Economy, and installing Wi-Fi across the airline's domestic and international fleet.
Challenges
Not everything has been considered an improvement during Munoz's tenure though. Once again, the airline has become tied up in controversies that have caused it to receive scrutiny from the general public.
In 2017, Munoz received criticism for his handling of the forced passenger removal from United flight 3411.
Then, a few weeks ago, the airline came into the spotlight again when a passenger's dog died in-flight after the dog placed in an overhead baggage bin.
These recent incidents have Munoz tasked with earning the trust of its passengers again. One of the first things the airline did was redesign its employee booking policy, to where employees traveling for business will have their seats one-hour prior to the flight departing, to ensure passengers aren't removed at the last minute.
In terms of handling pets, the airline has instituted a new policy to where passengers traveling with pets will be issued bright-colored bags to signify that a pet is onboard.
Additionally, as with other U.S. airlines, United will have to work to gain the business of price-sensitive travelers. With their new basic economy product, the airline is hoping to offer the same prices as airlines such as Spirit and Southwest but the service of a legacy carrier.
Ed Bastian – Chief Executive Officer, Delta Air Lines
Introduction
Appointed as CEO in May 2016, 20-year Delta veteran Ed Bastian brought years of airline experience to the table.
Bastian, who is also a Certified Public Accountant, joined Delta in 1998 and held various roles in the airline including President, Chief Financial Officer, Senior Vice President, and Vice President – Finance and Controller. He also had a short stint as Senior Vice President and Chief Financial Officer of Acuity Brands, a lighting manufacturing company in Atlanta.
After receiving a business degree from St. Bonaventure University, Bastian began his career with Price Waterhouse where he uncovered a multi-million dollar fraud scheme which resulted in the firing of several of the firm's partners. At the age of 32, he became an audit partner at the firm. After leaving Price Waterhouse, Bastian went on to hold senior finance positions at Frito-Lay and PepsiCo.
Impact
When Bastian assumed the position of CEO, Delta was known as an antagonist.
Many credit this reputation to the former CEO and now board member, Richard Anderson, a lawyer known for his cutthroat attitude.
When Bastian inherited management of the airline, there had already been issues with the local groups, like Fox Theatre in Atlanta, which Delta pulled corporate funding from because the theatre allowed Qatar Airways to advertise there.
There were also spats with other airlines like Alaska Airlines, who expressed discontent at Delta's approach to open a new hub in Seattle.
Under Bastian though, many have noticed a softer side to how the airline handles things.
When the U.S. Department of Transportation insisted that Delta give up some routes to Mexico City in order to get a joint venture approved with Aeromexico, Bastian complied instead of taking the Department of Transportation to court, which is what Anderson did.
After United received criticism for its handling of the forced passenger removal, Bastian raised the compensation passengers can receive to almost $10,000. United took a similar approach, but two weeks later.
Bastian, who helped Delta through a bankruptcy, an attempted hostile takeover, and a merger with Northwest Airlines, aimed to maintain the airline's fiscal discipline as the new CEO.
One of his first goals was to use the company's free cash flow to pay off debts, buy back shares, and make business improvements.
Similar to United's Oscar Munoz, Bastian also initiated weekly meetings with employees throughout the system. He also released periodic "Ask Ed Anything" videos to the employees.
Since becoming CEO, Bastian has led Delta in returning to sustained profitability, regaining an investment-grade credit rating with all three major rating agencies, and paying out more than $1 billion in profit-sharing to employees every year.
When the company announced it would be giving out $1.5 billion in profit-sharing to its 80,000 employees, Bastian went from party to party at Delta's headquarters, mingling with pilots, flight attendants, ground crew, and reservations staff.
Bastian even took part in taking selfies with employees in front of the largest greeting card ever, which was signed by 80,000 employees.
Challenges
One of the biggest challenges that Bastian and Delta face is regaining the market share previously held.
Delta was known as an airline that targeted business travelers, but a changing demographic has forced them to shift their strategy.
Like other U.S. airlines, Delta has introduced a basic economy product to offer competing fares with other low-cost airlines. The airline also plans to tailor its Comfort Plus product to make it more appealing to customers who fall in between a first-class passenger and a price-sensitive traveler.
Doug Parker – Chairman & CEO, American Airlines 
Introduction
Doug Parker assumed the role of  CEO of American Airlines Group in Dec. 2013 and Chairman shortly after. Parker is no stranger to the airline industry, having started his airline career as a financial analyst at American Airlines in 1986 after graduating with an MBA from Vanderbilt University.
At American, Parker worked closely with CEO Bob Crandall's "Brat Pack." This elite group of young business school graduates was tasked with navigating the airline through deregulation and was instrumental in issuing the airline's first frequent flier miles, developing the airline's hub system, and instituting the method of selling seats at discounted fares.
Several other members of this group would later go on to become CEOs in their own right. This group included Thomas Horton who would go on to become CEO, President, and Chairman of American Airlines, C. David Crush who would become CEO of Virgin America, and Ben Baldanza who would become CEO of Spirit Airlines.
Parker left American Airlines in 1991 to join Northwest Airlines, but subsequently left in 1995 to become Chief Financial Officer of America West Airlines, where he was on track to become CEO. In 2001, shortly before the September 11 terrorist attacks, he was named Chairman and CEO of the Phoenix-based airline.
Parker was able to lead the airline through a tumultuous time following the attacks and eventually merged the airline with US Airways in 2005, continuing on as CEO of the newly-combined company. After several failed merger attempts with Delta Air Lines and United Airlines, Parker was able to successfully merge US Airways with American Airlines following American's parent company, AMR Corporation, filing for bankruptcy.
Impact
Parker and his team oversaw a large and complicated merger that was completed relatively successfully compared to the United Airlines and Continental Airlines merger.
At the helm of the world's largest airline, he has continued to grow the company effectively. In 2015, he gave up the cash portion of his compensation, saying that he would be paid only in stock to reflect his confidence in the airline.
Under Parker's leadership, the airline has posted record revenue growth, operational performance, and profit margins.
Additionally, the airline has invested heavily in revamping its aging fleet replacing its aging McDonnell-Douglas MD80s and Boeing 757s with newer, more fuel-efficient Boeing 737s, Airbus A321s, and Boeing 787s.
Parker has also committed the airline to expanding its global connections, announcing a $200 million equity stake in China Southern Airlines. The airline has also committed billions to be spent on significant infrastructure improvements to the airline's technology and facilities.
Unlike United's Oscar Munoz, Parker has not had to put out any major fires at the airline that have received negative media attention. Parker and his team seem to be focused on making sure American maintains its growth plans and continues to meet long-term targets.
Challenges
Unfortunately for Parker, things are not as easy as they seem. He and his team are regularly probed by analysts for their ambitious, to say the least, financial targets. Margins are stagnant and fuel prices along with capacity are increasing leaving some investors uneasy.
In 2017, Parker also introduced a mid-contract pay increase in an attempt to foster good will with airline employees. He cited that in the long run the increased costs will help drive the business forward, but that has yet to materialize.
This was only the beginning of Parker's attempt to set good labor relations, as he also instituted a profit-sharing policy as a gesture of goodwill since it not specified in labor contracts. However, Parker has received some negative remarks over this plan, especially from pilots who find the profit sharing too low compared to what their fellow pilots at rival Delta Air Lines make.
Parker hails from a financial background and has proven himself to be a very shrewd businessman when it comes to financials, but has faced issues in terms of energizing the airline's labor force.
Moving forward, Parker remains optimistic about reaching targets laid out by the company. He does believe that American will never lose money again, after all.
An "AvGeek" for most of his life, Akhil has always been drawn to aviation. If there is an opportunity to read about an airline, fly on a new airplane, or talk to anyone about aviation, he is on it. Akhil has been on over 20 different kinds of aircraft, his favorite being the MD-80. Additionally, he has visited 5 continents and plans to knock out the remaining two (Africa and Antarctica) soon. Based in Dallas, Akhil graduated from Texas A&M University with a degree in Management Information Systems and currently works in consulting. His dream is to become an airline executive.
Latest posts by Akhil Dewan (see all)