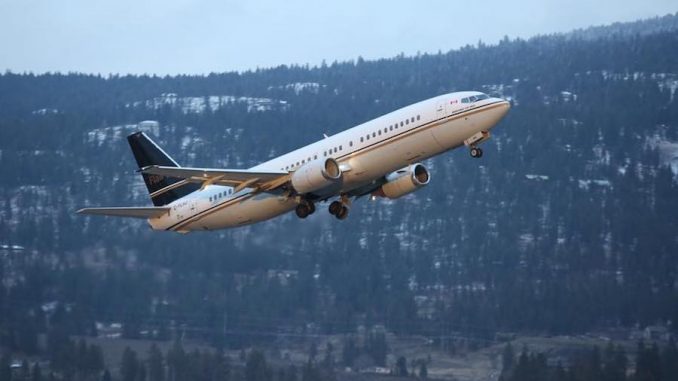 Flair Airlines, an ultra-low-cost carrier based in Kelowna, British Columbia, has announced service to five new cities, more than doubling its current route map.
The airline, which began operations in 2005, will add service to Calgary, Halifax, Prince George, Saskatoon and Victoria this summer. With a current fleet of seven Boeing 737-400 aircraft, the growth in new routes is expected to come from the two new Boeing 737-800 aircraft expected to arrive this summer, along with four additional aircraft in 2019.
Similar to other ultra-low-cost carriers across the globe, passengers will pay a base fare along with ancillary fees for carry-on bags, checked bags, food, beverages, seat selection and more.
Flair has grown quickly over the last year, fueled by the acquisition of virtual airline NewLeaf in June of 2017. NewLeaf had previously operated via an indirect operating license, effectively selling seats that would be operated by Flair's aircraft. While NewLeaf had no issue selling tickets, it faced several legal challenges due to having to cancel scheduled flights and unpaid fees to several suppliers and consulting groups.
The news comes at an interesting time in Canadian aviation, as both incumbent and new airlines continue competing for travelers. In September of 2017, WestJet announced the creation of Swoop, its own ultra-low-cost carrier to be based in Hamilton. Jetlines, which will be based in Vancouver and provide service in Canada and the U.S., is another ultra-low-cost carrier that intended on starting service this summer, but has since been delayed.
While Jetlines battles to complete the licensing process and acquire the necessary aircraft and WestJet battles labor issues for starting Swoop, Flair is in a unique situation to test the waters on ultra low-cost service in Canada.

Joe joined AirlineGeeks in 2014, and in his current role as Editor-in-Chief manages a growing team of writers both in North America and Europe. He enjoys spending the bulk of his time researching, learning and analyzing the latest trends in the airline industry, all while mentoring new members of the AirlineGeeks team who seek to do the same. Areas of research include revenue management, codeshare and alliance partnerships and airline financial results.

Latest posts by Joe Pesek (see all)